Israeli Businessman Aaron Frenkel Takes 13% Stake in Troubled Drone Maker Aeronautics
The Israeli company closed 25.4% up on Tel Aviv after reporting the news Sunday. On Monday, Israel Securities Authority agents raided the company's offices in connection with an investigation that has been ongoing since September 2017
Israel-based drone maker Aeronautics Ltd. was up 25.38% on the Tel Aviv Stock Exchange on Sunday market close, after reporting that on Friday, a Panamanian company by the name of ERJ-145 NUA Inc. acquired a 9.99% share of its stocks. The company bought almost 5.5 million shares at NIS 7.69 per share. On Monday, Aeronautics reported that the company acquired another 1.8 million shares at NIS 8.41 per share, bringing the company's stake to 13.32%, and disclosed the name of the controlling shareholder of ERJ-145—Israeli businessman and billionaire Aaron Gover Frenkel.

For daily updates, subscribe to our newsletter by clicking here.

Frenkel, who lives in Monaco, is the owner of Loyd's Group of Companies, which invests and owns assets in the domains of real estate, civil aviation and aerospace, energy, and technology.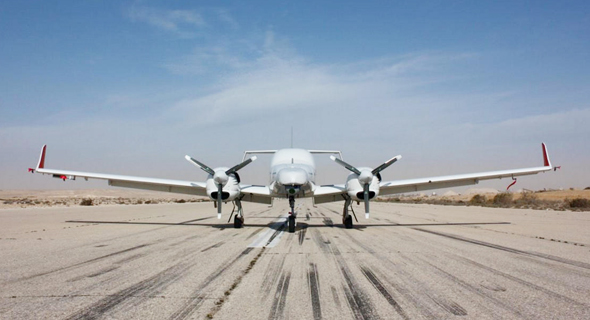 Drone by Aeronautics. Photo: PR

On Thursday, Israeli insurer Phoenix Holdings Ltd. divested its entire stake in Aeronautics, nearly 3 million shares.

Aeronautics has been under investigation by Israeli police and the Israeli Ministry of Defense since September 2017, but the details of the probe have been placed under a gag order. In August, the company announced 11 senior executives, including the CEO, have been summoned for a hearing by the Israeli State Attorney. The investigation led Aeronautics to report a 23.7% drop in revenues and a net operating loss of $2.97 million in its third-quarter report for 2018, published November.

On Monday, Israel Securities Authority agents raided the company's offices and confiscated documents. They also summoned company executives to the authority's offices.