Israel Criminalizes Buying, But Not Selling, Sex
Total customer payments for the purchase of sex services in Israel from women alone is estimated at NIS 1,284,628,000 (approximately $344 million) per year, according to a 2017 report published by the Ministry of Justice
The Israeli parliament passed a bill criminalizing the purchase of sex in the country on Monday. Although sex trafficking, running a brothel, and pimping all remain illegal under the Israeli legal code, prostitution itself stays legal. Total customer payments for the purchase of sex services in Israel from women alone is estimated at NIS 1, 284, 628, 000 (approximately $344 million) per year, according to a 2017 report published by the Ministry of Justice.

For daily updates, subscribe to our newsletter by clicking here.

There are an estimated 11,500 people engaged in sex work in Israel, according to the report. Of those, 10,000 are adult women, 1,000 are female minors, 520 are adult men, and approximately 40 are male minors. The average number of customers per day is 5.5, and the average fee for a meeting is NIS 288 ($77).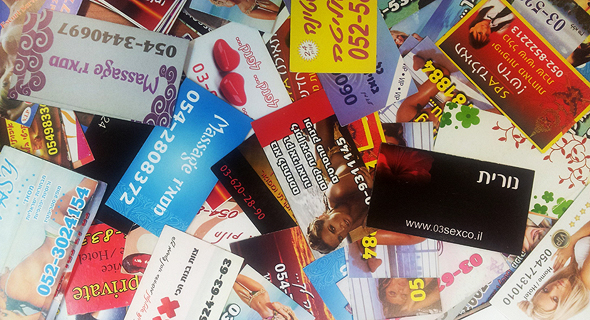 Sex Work business cards. Photo: Shaul Golan

The decriminalization of selling sex work and the criminalization of purchasing sexual acts is known as the Nordic model. The thought behind this approach, which has been adopted by countries including Sweden and Canada, is that because the act of selling is not illegal, sex workers would still come forward when help is needed or if sexually or physically abused. However, a Canadian study published in 2014 found that after Canada adopted this model, there was no change in the rate of violence experienced by sex workers compared to before.

The World Health Organization (WHO), The United Nations Development Programme (UNDP), and UNAIDS all recommend the complete and full decriminalization of sex work, for both employees and clients. After New Zealand decriminalized the sex industry entirely, many sex workers felt more empowered to refuse difficult clients and to seek help from the police, according to a UNAIDS report published in 2012.

Under the terms of the new Israeli bill, first-time buyers would be fined NIS 2,000 ($535), with the penalty increasing to NIS 4,000 ($1,050) for repeat offenders within three years.

The bill will go into effect in a year and a half, in order to give law enforcement agencies ample time "to expand the rehabilitation programs for prostitutes," according to the parliament's statement.