Despite Wave of Deadly Accidents, Implementation of New Israeli E-Bike Regulations Postponed
Nineteen people, most of them teens, have been killed in e-bike related accidents in Israel in 2018
Alternative means of transportation are especially popular in Israel where public transportation is not available at nights, weekends and religious holidays. Thanks to its warm climate and mostly plain landscape, Israel is considered a haven for electric bicycles and e-scooters, mostly used as an accessible, environmentally friendly alternative to cars by teens who are too young to drive and by Tel Aviv's many techies rushing to and from office through the city's busy streets.
For daily updates, subscribe to our newsletter by clicking here.
In the past three months, Berlin-based scooter sharing service Wind, operated by BYKE Mobility GmbH, and California-headquartered smart-mobility company Lime, incorporated as Neutron Holdings Inc., announced plans to launch their service in Israel in 2019. Los Angeles-headquartered electric scooter-sharing company Bird Rides Inc. has been operating in the country since August.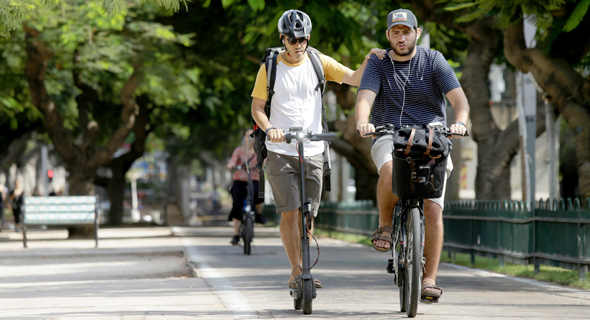 E-bike and E-scooter users in Tel Aviv. Photo: Amit Sha'al
But the two-wheeled hype also brought with it a rash of fatal accidents, prodding Israeli regulators into action.
On Tuesday, the Israeli parliamentary Economic Affairs Committee approved restrictions on the use of electric bikes and e-scooters in the country. The committee also decided to postpone the coming into force of these regulations by six months to July 1, citing the time authorities and riders need to prepare for the new edicts.
Originally meant to come into force Tuesday, the new regulations were first announced in October following a series of fatal and non-fatal electric bike and e-scooter-related accidents.
Nineteen people, most of them teens, have been killed in e-bike-related accidents in Israel in 2018, compared with seven fatalities in 2017, according to data released Monday by the country's National Road Safety Authority.
In one of the more highly publicized accidents, 16-year-old Ari Nesher, son of Israeli filmmaker Avi Nesher, was killed in a hit and run in September. 20-year-old Israeli Premier League soccer player Yitzhak Asefa, allegedly driving under the influence of alcohol, crashed into Nesher, the latter riding on the top tube of an e-bike steered by a friend. Asefa is currently under house arrest pending trial for abandoning the victim, obstruction of justice, and drunk driving. Israeli media also reported on several occasions that the state is considering indicting Nesher's friend for manslaughter.
Another high profile accident occurred in 2017 when fashion model and local celebrity Shlomit Malka was hospitalized with a head injury following an electric scooter accident. Malka later became the face of a Road Safety Authority campaign, calling on bike and scooter riders in the country to wear helmets. In August, Malka's husband, Israeli actor Yehuda Levi, crashed into a pedestrian with an e-scooter, sending her to the hospital.
The new regulations put restrictions on who can ride e-bikes. Licensed drivers will be able to do so, as will people who have passed the written test required for issuing a driver's' license, or have undergone e-bike-specific training. Riders will also be required to wear a helmet complete with a high visibility strip.
Israeli law considers electric scooters a type of e-bike, but the new regulations distinguish between the two, requiring e-scooter users to wear high visibility vests at night.