Berlin-Based Wind to Launch E-Scooter Sharing Service in Tel Aviv
Wind's location-based app allows users to find, unlock and pay for the use of dockless electric scooters
Berlin-based electric scooter sharing service Wind will start operating in Tel Aviv within the next few weeks, Shahaf Shav Artza, the service's local manager, told Calcalist in a phone interview Wednesday.

For daily updates, subscribe to our newsletter by clicking here.

Wind operates in a model similar to that of Los Angeles-headquartered electric scooter-sharing company Bird Rides Inc., which has been active in Tel Aviv since August. Both services offer a location-based app that allows users to find, unlock and pay for the use of dockless electric scooters. Wind will also charge the same price as Bird for rides in Israel—a flat fee of NIS 5 (approximately $1.3) for each ride and NIS 0.5 (approximately $0.13) per minute, Shav Artza said.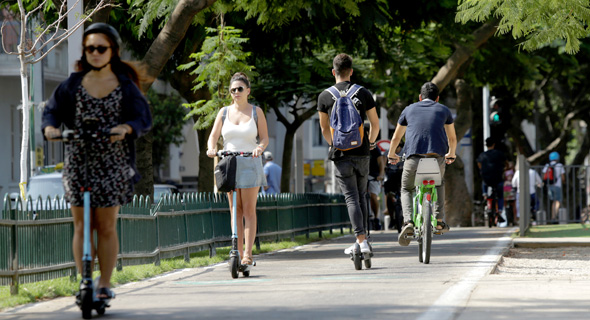 Electric scooters in Tel Aviv. Photo: Amit Sha'al

Wind will deploy about 1,000 e-scooters across Tel Aviv while taking into account locations where demand is high or where public transportation is lacking, Shav Artza said. The company intends to expand to other locations in Israel as demand grows, he added.

Wind is operated by BYKE Mobility GmbH, a Berlin-based company that also offers a shared bicycles service, which will not be available in Israel at this point.

Data collected by the app will be made available to cities, public transportation companies, and researchers to be used for exploring smart mobility solutions, Shav Artza said.

Before joining Wind, Shav Artza was a business development manager for the Israel operations of Beijing-based bike-sharing service Ofo. In July, the latter discontinued its service in Israel after about nine months of activity.

In addition to Bird, Wind will face competition in Israel from Chinese bike-sharing company Beijing Mobike Technology Co. Ltd. and several smaller local operators. In September, California-headquartered smart-mobility company Lime, incorporated as Neutron Holdings Inc., also announced plans to enter the Israeli market, offering on-demand regular and electric bicycles as well as e-scooters.