Interview
Passing on Open Code, Israel Missed on Elastic, CEO Says
In October, Israeli-linked IT and data analytics company Elastic floated on NYSE, attaining a market capitalization of around $2.5 billion
Israel-linked IT and data analytics company Elastic NV intends to open an Israeli subsidiary and recruit several dozens of local employees, according to co-founder and CEO Shay Banon.

For daily updates, subscribe to our newsletter by clicking here.

The company employs some 1,100 people in 35 countries, but in Israel Elastic currently only employs 10 freelancers, Bannon said in an interview with Calcalist held earlier this week. The company is looking to leverage the local talent in open code and increase its local market reach in terms of partners and customers, he said.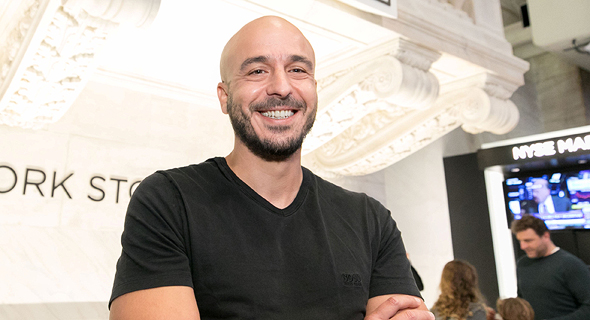 Elastic CEO Shay Banon. Photo: Nicole Pereira

Founded in 2012 by a team of four—Steven Schuurman, Simon Willnauer, and Israeli Banon and Uri Boness—Elastic develops a cloud-based open source search and analytics engine for organizations. Called Elasticseach, it is used by the likes of Tinder, Uber, eBay, and Ticketmaster.

In October, Elastic listed on NYSE, raising $252 million at $36 per share and achieving a company market capitalization of around $2.5 billion. Since then, its capitalization has doubled to around $5 billion, and its stock is traded at over $70. Banon holds an 11.9% stake in the company.

The company has over 350 million downloads and over 100,000 community members, but a lot less paying customers, meaning it is currently not profitable. Elastic reported revenues of $160 million—93% of them from subscriptions—and a net loss of $52.7 million for the fiscal year 2018, ended April 30. For 2017, it registered revenues of $88 million and a net loss of $52 million.

Originally founded in the Netherlands, Elastic is now headquartered in Mountain View, California. It raised over $100 million to date from investors including Benchmark, Index Ventures, and New Enterprise Associates.

Banon originally wanted to establish the company in Israel, he said, but local investors weren't hyped about investing in an open code startup, leading him to relocate to Amsterdam. "They had a hard time understanding how you can profit off a product you give away for free," he said.

Use of the search engine is free but the company sells additional services to corporate clients, Banon explained. Uber uses the technology to connect between users and drivers, and to synchronize between its different databases, he said; Tinder uses it to find appropriate romantic candidates based on users' swiping patterns.