Kenon Holdings to Sell 12% of Qoros Automotive to Chinese Majority Shareholder for $227 Million
Qoros is a joint venture between Israel-based Kenon and Chery Automobile Co. In January 2018, an investor related to the Baoneng Group paid $1 billion for a 51% stake in Qoros
Israel-based Kenon Holdings Ltd. announced on Tuesday in a filing to the U.S. Securities and Exchange Commission an agreement to sell 12%, half of its remaining stake in Qoros Automotive Co. Ltd., to Qoros' majority shareholder. The 12% to be sold is valued at $227 million, Kenon said, but the deal is still subject to regulatory approval.

For daily updates, subscribe to our newsletter by clicking here.

NYSE and Tel Aviv-listed Kenon is controlled by Israeli-born business magnate Idan Ofer. The company owns among its assets a 76% equity stake in Israeli power generation company OPC Energy, and a 32% stake in Israeli shipping company Zim Integrated Shipping Services.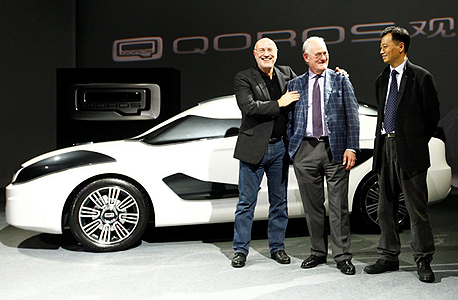 Qoros launching in China. Photo: Tian Tian

Qoros is a joint venture set up in 2007 between Kenon and Chinese automobile company Chery Automobile Co. Ltd. In January 2018, Kenon announced a "China-based investor related to the Baoneng Group" has agreed to buy 51% of Qoros for $1 billion, leaving Kenon with 24% and Chery with 25%. The buyer also committed to buying 300,000 vehicles from Qoros over three years.

Kenon did not provide any more identifying details for the buyer in Tuesday's announcement.

Controlled by Chinese billionaire Yao Zhenhua, Shenzhen-headquartered Baoneng Group is a property and financial services conglomerate. In 2017, Baoneng launched a new energy vehicle business in China. In August 2018, the conglomerate set up two new automotive subsidiaries, one for sales and one for import and export. In October, the group signed an agreement with the Kunshan municipal government that included plans for an automotive e-commerce business.

Kenon stated it might sell its remaining stake in Qoros in the future.