Covert Burger Delivery Service Takes Over Tel Aviv
Operated by a man who identifies as The Professor, the clandestine service delivers a small batch of hamburgers ordered through a Whatsapp chat, sometimes days in advance
A covert burger delivery service operated by a mysterious man known only as "The Professor," a reference to the criminal mastermind character from Netflix' show Casa de Papel (Money Heist), is taking Tel Aviv by storm. In a video stating the rules of the delivery service, which is shared on WhatsApp, The Professor is seen donning the mustachioed mask associated with the popular show. To buy in, one must get a hold of a secret phone number, passed on by well-connected friends, and order the fixed-price meal via Whatsapp message, sometimes days in advance. Most nights, demand simply exceeds the supply.

For daily updates, subscribe to our newsletter by clicking here.

"80% of the orders are rejected each night because we run out of meat," The Professor, who agreed to an interview with Calcalist on condition that his identity will not be revealed, said, adding that people order their burgers days, even weeks in advance. A restauranteur with 15 years of experience, The Professor decided to go underground a few months ago, a decision he links to the rising costs of operating a restaurant in Israel.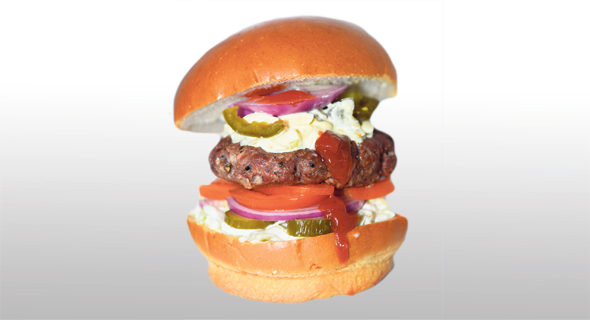 The Professor's secret burger. Photo: Yair Sagi

Abrasive taxation and rising costs of labor and foodstuff in recent years have made it exceedingly expensive to operate restaurants in the country. Many local restaurateurs have taken to protest what they call unrealistic tax demands in recent months. In December, hundreds of restaurants, cafes, and bars went dark for eight minutes as an act of protest.

The secret to the underground burger's taste and its viral popularity is that it is smoked, not grilled, leaving it juicy and giving it a strong smokey note. The menu has one option: a meal for two, with fries and accouterments, which costs NIS 189, plus delivery fees. This places the underground burger at the high end of Tel Aviv's gourmet burgers. The Professor's commitment is uncompromising quality. He only makes 120 burgers a day, he said, "so we can make them right."

Israel's burger culture has come a long way since the first McDonald's restaurant opened here in 1993. Restaurants selling high-end burgers—some offering lavish toppings such as foie gras and lobster—have been gaining a cult following, quickly multiplying with new locations and sporting long lines at dinner time.