McDonald's Reports Record Sales in Israel
McDonald's tailored its menu for the Israeli market with health-oriented items such as freshly-cut salads, chicken wraps, and baby carrot snacks
2017 was a good year for Mcdonald's in Israel, and 2018 may just be better. The company has reached a peak of NIS 870 million (over $240.5 million) in sales last year and is expecting to reach NIS 1 billion (approximately $276.6 million) in 2018, Alonyal Ltd., the owner of the global fast-food chain's Israeli franchise, announced Sunday.
For daily updates, subscribe to our newsletter by clicking here.
McDonald's began operating in Israel in 1993 with a first restaurant in Ramat Gan, a town outside Tel Aviv, and was met with competition from several local and international fast food chains, most of which have since lost their grip on the local market. MacDavid, founded in 1978 in Tel Aviv, was sued by McDonald's in a Tel Aviv district court in 1979 for name infringement. With 28 branches nationwide in its peak in 1989, as of July 2018, MacDavid has only one remaining restaurant in Haifa, a port city in Israel's north.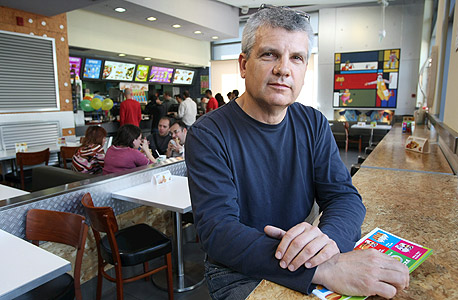 Omri Padan president of McDonald's Israel franchise operator Alonyal. Photo: Gilad Kavalerchik

Burger King was active in Israel between 1994 and 2010 when it was shut down by its local operator, A. Orgad Holdings Company Ltd., and its branches were rebranded as Burger Ranch, a veteran local chain owned by Orgad. Burger King reentered the Israeli market in 2016, led by French businessman Pierre Besnainou, and currently has eight branches in the country. Following Burger King's relaunch in the country, customers lined up outside of the chain's first location in Tel Aviv's Ibn Gabirol St. for several days.

McDonald's has opened six new locations in Israel in 2018 and plans to open two additional restaurants by the end of the year, bringing its total number of branches in the country to 188, according to a statement.

Like in its other locations, McDonald's offers unique items for the Israeli market, which are mostly health oriented and include freshly-cut salads, chicken wraps, and baby carrot snacks. In the past, the local franchise also offered wraps with traditional Middle Eastern dishes such as falafel, kebab, and Shawarma. Every McDonald's branch in Israel comes equipped with digital self-service stands allowing customers to order and pay using a touchscreen interface.

In 2013, Padan was heavily criticised by local labor unions and youth organizations for attempts to stop McDonald's employees, mostly teenagers and members of other minority groups, from unionizing.