Netanyahu's Likud Party Behind Campaign Targeting Israeli Journalists
Three months before the general elections in Israel, the party launched a campaign blaming media for trying to push watchdog into indicting Netanyahu
Israel's ruling right-wing Likud party has taken responsibility for a previously anonymous campaign that blames local media for trying to push a state watchdog into indicting Israeli Prime Minister Benjamin Netanyahu.

For daily updates, subscribe to our newsletter by clicking here.

The campaign, launched last week, has billboards and Facebook ads presenting four high-profile Israeli journalists, saying "they do not get to decide. " The journalists presented are Raviv Drucker, Guy Peleg, Amnon Abramovich, and Ben Caspit, all of which have previously reported on ongoing criminal investigations against Netanyahu.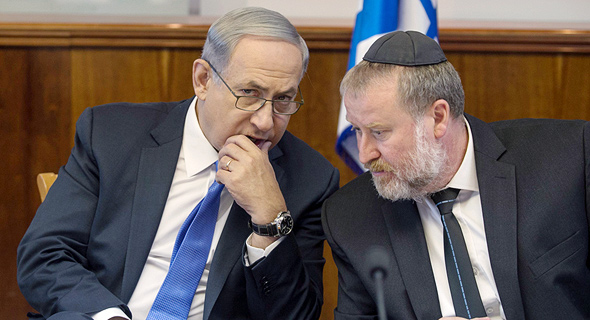 Netanyahu (left) and Mandelblit. Photo: Ohad Zwigenberg

Israel's upcoming general elections are to be held April 9. Current polls place Netanyahu as an almost guaranteed winner, though surprise alliances may tip a political balance.

Netanyahu is currently under probe for several allegations of bribery and attempts to manipulate the media. Israel's Attorney General Avichai Mandelblit is currently debating whether there is enough evidence to indict Netanyahu, facing pressure from both sides: opposition leaders are pushing for the decision to be published before the elections, while Netanyahu himself repeatedly states the country's attorney general would play into his political opponents' hands if he does so.

On Saturday, a video posted to Netanyahu's Facebook page accused Israeli media and left-wing organizations and politicians of trying to force Mandelblit into indicting Netanyahu "at all costs."

Facebook has yet to publish official regulations for political campaigning in Israel. The social network has not yet implemented tools identifying political advertisers in the country. Last week, Reuters reported the company was extending some of its tools for preventing election interference to locations where significant votes are scheduled for the upcoming months, including India, Nigeria, Ukraine, and the European Union. Israel was not on the list.

In October, Sean Evins, Facebook's government and politics outreach manager, met with representatives of Israel's Central Elections Committee. The results of the meeting were disclosed by neither the committee nor by Facebook.

Evins was joined by Jordana Cutler, Facebook's head of policy in Israel. Before joining Facebook, Cutler served as an advisor to Netanyahu on matters related to Jewish diaspora. Cutler was also a member of the campaign strategy and communications team for the Likud party during the 2009 election campaign, in which Netanyahu was re-elected. In a previous position, Cutler was a senior officer for public affairs at Israel's Washington D.C. embassy.

On Sunday, following several days of guesswork by Israeli media, the logo of the Likud party was officially added to the campaign ads.

Israeli election law, which restricts propaganda and prohibits it from being distributed anonymously, does not currently apply to online and social media activity. In July, Netanyahu, known for his aggressive social media strategies, halted a vote on a bill that would see all publications on social media that were paid for or solicited by a politician or party, including third-party comments or likes, marked as such.

Last week, Netanyahu's Likud party was the only political faction to oppose a motion urging the central election committee to prohibit anonymous political activity on social media.

"Decisions regarding elections-related content and campaigns are subject to global policy and are supervised by dedicated expert teams," a Facebook spokeswoman said in a message sent to Calcalist Sunday.

"Jordana Cutler represents Facebook's global policy in Israel and is responsible to conveying it to policymakers and the local public sphere," she added.

In a December interview with Israeli broadcaster Channel 10, the former head of Netanyahu's coalition, Likud party lawmaker David Bitan, said an indictment published before April 9 will land the country's ruling party with even more votes than it would have gotten otherwise.