China Blasts U.S. Over Warnings on Israeli Infrastructure Projects
In a press event Monday, Chinese foreign ministry spokeswoman Hua Chunying called the American warnings "ridiculous"
China responded to the warnings U.S. officials have issued Israel regarding investments by Chinese companies in major infrastructure projects. In a press event Monday, Chinese foreign ministry spokeswoman Hua Chunying called the American warnings "ridiculous".

For daily updates, subscribe to our newsletter by clicking here.

Bloomberg previously reported on the response.

During a state visit to Israel earlier this month, U.S. Deputy Secretary of Energy Dan Brouillette expressed "concerns regarding certain Chinese foreign investment in Israel," a spokeswoman for the U.S. Department of Energy confirmed in an email to Calcalist Wednesday. Brouillette warned Israeli officials that the U.S. may limit intelligence sharing with Israel if no steps are taken to regulate foreign investments.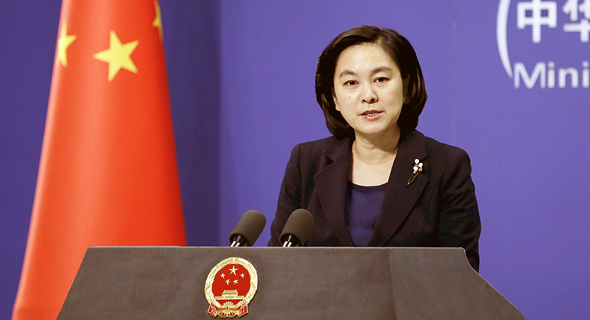 Chinese foreign ministry spokeswoman Hua Chunying. Photo: Reuters

Chunying said that the U.S. "has been abusing 'national security' to smear and strike down normal business activities of Chinese enterprises." The U.S. has also been "consistently ignoring facts and seeing enemies wherever it looks," she added.

Head of the Israel Security Agency (Shin Bet) Nadav Argaman warned that Israel needs to up its regulations against foreign investors in key infrastructure projects throughout the country earlier this month.

"There is a gap between the laws in Israel and security needs in terms of overseeing foreign investments," Argaman said. Argaman specifically referred to the China-based firms that take part in the construction of a seaport in the northern Israeli city of Haifa, and in a large-scale project to build a light rail in Tel Aviv.

The Shanghai International Port Group won a government contract to build and operate Haifa's port for 25 years in 2015. American navy vessels dock at the seaport, Israel's busiest, on a regular basis.

During his visit to Israel in early January, U.S. National Security Adviser John Bolton brought up American concerns about the contract, as well as the involvement of Chinese companies in Israel's tech industry through invested capital, Israel's national broadcaster Kan reported.

Israeli companies operating in domains that may have national security implications, such as cybersecurity, energy, and mobility, may find their ability to do business with certain American partners, especially government entities, diminished if they have Chinese backers, former U.S. ambassador to Israel Daniel Shapiro said in an interview with Calcalist last Tuesday.

Over the last decade, dozens of Chinese companies have entered the Israeli market in major transportation and infrastructure projects, including the state-owned China Civil Engineering Construction Corporation Ltd. (CCECC), contracted to dig tunnels for the underground sections of the future light rail of the Tel Aviv metropolitan area.

China, excluding Hong Kong, accounts for more than 8% of Israeli exports. Israeli exports to China reached $2.8 billion in the first half of 2018, a 73% increase from 2017, according to Israel's Central Bureau of Statistics.

According to a November report by Israel-based market research firm IVC Research Center Ltd., around $1.5 billion of Chinese dollars were invested in around 300 Israeli companies.

On a visit to China in 2017, Netanyahu called trade relations between the two countries "a marriage made in heaven."

Israel already has in place certain measures that grant the government power to halt business deals involving foreign investments, but only in specific fields. The Israeli Ministry of Defense has an office that reviews application to export weapons and military technology, and the Israel Innovation Authority, another government entity, has veto power over certain decisions made by Israeli tech companies, but only if those companies received early-stage state funding.

Israeli Labor party lawmaker Omer Barlev put forth a motion for a bill that would see Israel create a committee on foreign investments, but in a conversation with Calcalist last Monday, Barlev said his motion was to be brought before the Israeli parliament the same day Netanyahu dissolved his coalition and called for early elections.