Intel to Invest $11.9 Billion in Israeli Fab Operation Expansion
Intel currently employs 12,700 people in Israel, including the 1,100 people employed by automotive chipmaker Mobileye
Intel has agreed to invest NIS 40 billion ($11.9 billion) to expand its fabrication operations in southern Israeli town Kiryat Gat, Israel's Minister of Finance Moshe Kahlon announced in a tweet Monday. Intel later announced it intends to submit a business plan to the Israeli government for continued investment in the site, which currently has two fab facilities, but did not disclose any financial details.
For daily updates, subscribe to our newsletter by clicking here.
The investment is part of Intel's global expansion of its manufacturing capabilities, announced December, Intel said. In addition to Israel, the company stated it intends to expand its operations in Ireland and Oregon. All three locations manufacture one or both of Intel's 14 nm and 10 nm processors, in shortage in recent months. Intel also has several wafer fabrication sites in other U.S. locations and in Dalian in China.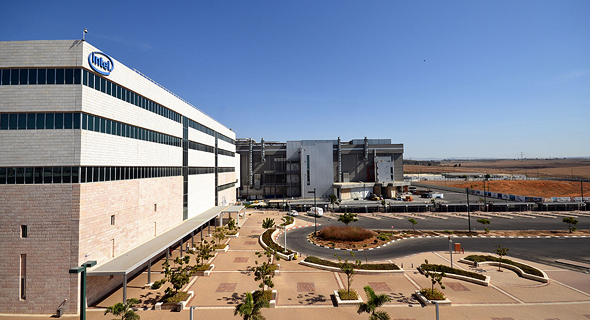 Intel's Kiryat Gat facility. Photo: PR

Israel intends to pay back some of the company's intended investment, with an overall compensation of less than 10% of the overall expenditure, three people familiar with the matter told Calcalist on condition of anonymity. In 2018, Israel agreed to award Intel NIS 700 million dependent on a NIS 17.5 billion Intel investment in its Kiryat Gat operations.

As part of the new understandings with the chipmaker, Israel will extend the company's current tax benefits, the people familiar with the matter said. As Intel is defined as a company of strategic value to Israel, it currently pays a corporate tax rate of 5% instead of 23% on its southern operations.

Intel will also agree to recruit 1,000 additional local employees, the persons familiar with the matter said.

Intel currently employs 12,700 people in Israel, including the 1,100 people employed by automotive chipmaker Mobileye, acquired by Intel in 2017 for $15.3 billion. Its export from Israel in 2018 amounted to $4 billion, according to company statements, up from $3.6 billion in 2017. Its total acquisitions and investments in Israel to date amount to $35 billion.