Israeli Companies Bagged a Fifth of All Cyber Venture Capital Investments in 2018
Israel and Lithuania signed a declaration of intent to increase cybersecurity cooperation on Monday
Israeli cybersecurity firms bagged a fifth of all venture capital investments in the domain in 2018, according to a new report. Only U.S. firms topped Israeli firms in terms of overall cybersecurity investments, according to the report by Start-Up Nation Central (SNC), a Tel Aviv-based non-profit organization managing a database of Israeli tech companies. 450 cybersecurity firms currently operate in Israel, the report published Monday states.
For daily updates, subscribe to our newsletter by clicking here.
Exports of cybersecurity technologies and products from Israel reached $5 billion, Prime Minister Benjamin Netanyahu said Tuesday. Israel is set on cutting red tape to make it easier to set up new companies in the domain, he said. 60 new cybersecurity companies were founded in the country in 2018, according to the report by SNC, a lower number than in previous years.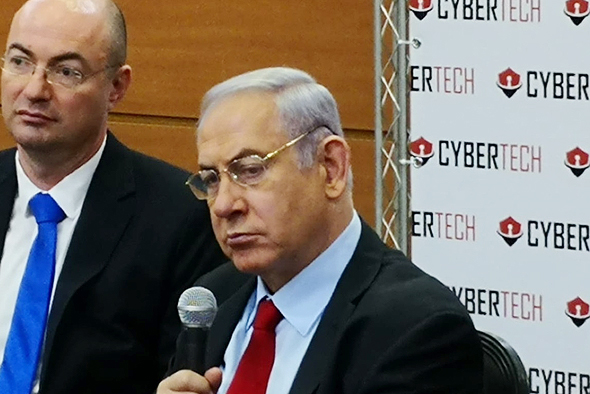 Prime Minister Benjamin Netanyahu at CyberTech. Photo: Raphael Kahan

Netanyahu spoke at a cybersecurity conference in Tel Aviv Tuesday. Called CyberTech, the two-day event attracts private companies, nonprofit and governmental entities from around 80 countries. The event was also attended by Saulius Skvernelis, Prime Minister of the Republic of Lithuania, formerly the country's Minister of Interior.

Ahead of the conference, Israel and Lithuania signed a declaration of intent to increase cybersecurity cooperation on Monday, and the following day Skvernelis met with Netanyahu in Jerusalem to discuss more extensive collaboration between the two countries. Israeli Minister of Economy and Industry Eli Cohen and Lithuanian Minister of Economy and Innovation Virginijus Sinkevicius also participated in the meeting.

Other speakers at CyberTech included Yigal Unna, director general of the Israel National Cyber Directorate; Aharon Aharon, head of the Israel Innovation Authority; Check Point Software Technologies Ltd. CEO Gil Schwed, and senior executives from companies including Dell EMC, IBM, and Deloitte.

Israeli cybersecurity companies raised a record $1.19 billion in 2018, up 47% from 2017, according to SNC. Deal size median rose from $3.5 million to $6 million in 2018.

Non-Israeli investors, mostly from the U.S., participated in 65% of all the deals, according to the report published Monday.

Only three investment transactions in exceeded the $50 million mark: private equity firm Vector Capital bought a 25% stake in KELA Group in April, according to a company valuation of $200 million, Claroty Ltd. announced it has raised a $60 million B series in June, and Exabeam Inc. announced it has closed a $50 million round in August.