Wireless Heart Pump Technology Implanted in a Patient for the First Time
The technology, patented by Israel-based Leviticus Cardio, uses an external electromagnetic transmitter to charge an implanted battery, negating the need for a permanent and infection-prone exit wound
In December, doctors at the National Research Center for Cardiac Surgery in Astana, Kazakhstan, performed a first of its kind surgery in 24-year-old Ismail Tursunov. They implanted him with a left ventricular assist device (VAD), essentially a mechanical pump intended to help the heart pump oxygenated blood from the lower chambers of the heart to the body. This type of procedure is performed in thousands upon thousands of patients every year, but this time something was different. Tursunov was the first human implanted with a wirelessly charged pump.

For daily updates, subscribe to our newsletter by clicking here.

The pump was manufactured by Jarvik Heart Inc., a market veteran that developed the first artificial heart successfully implanted in a human. The technology for charging the battery that powers it, however, was developed by a relative newcomer: an Israel-based company called Leviticus Cardio Ltd., founded in 2008.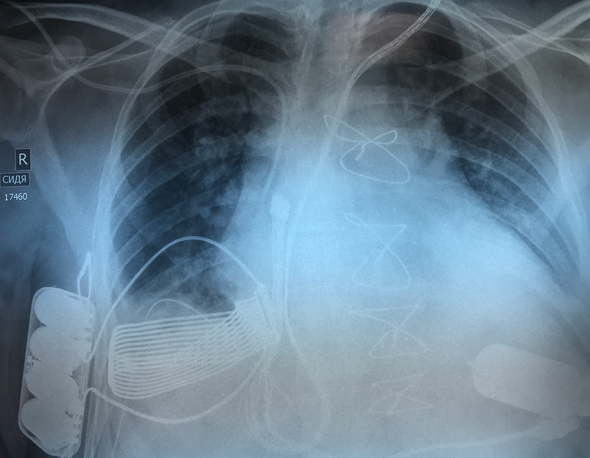 Ismail Tursunov, post surgery. Photo: Leviticus Cardio NRCSC

VADs are a last resort for people that are either awaiting a heart transplant, or that are not eligible or good candidates for one. More rarely, they are used to buy people time until their hearts heal enough to beat on their own. VADs rely on an external power source, which currently means a permanent exit wound is left in the skin for the wire to go through, running an increased risk of infection and hindering activities such as swimming or even showering.

Wireless powering has been tried before by commercial companies and researchers, Leviticus Cardio director Steve Rhodes told Calcalist in a Thursday interview. The problem was, he explained, all prior attempts made use of the same technology now being used to wirelessly charge iPhones, and the amount of energy transferred basically "cooked" the tissue from within. Leviticus Cardio's technology, he said, uses a very small amount of energy, and so far tests have not shown any resulting damage.

Helmed by CEO Michael Zilbershlag, Leviticus Cardio's technology uses a receiver inductive coil implanted in the body alongside the VAD, coupled with a battery and an internal controller. An external coil, placed within a vest for easy carrying, charges the inner coil electromagnetically. The battery lasts for around eight hours, after which the user needs to wear the vest for charging. A wrist monitor is used to keep track of the VAD, coupled with an internal vibration alarm that is triggered by a major hazard such as low battery power.

Just in case of malfunctions, Tursunov has also been implanted with a wire-based backup charging system that uses an internal power cable connected to the VAD. The cable passes under the neck skin and provides a skull-mounted "socket" behind the ear, in the same area cochlear implant electrode wires are passed into the body. The technology, also developed by Jarvik, is already approved and in use in Europe, but Leviticus Cardio states it has not been needed once since the surgery.

Currently, the technology is intended as a temporary solution before a heart transplant, but Rhodes said the company is looking at the technology as a permanent solution in the future.

There are always going to be more patients in need of a transplant than available hearts, Rhodes said. "I expect that at least initially, the patients we implant will be a 'bridge to transplant'," he said. Once the benefits and safety of the technology are made apparent, he expects it will become a long-term treatment.

The main problem with permanent VADs today, Rhodes explained, is the continuous risk of infection. "Wireless technology could be the solution."

In January, Leviticus Cardio and Jarvik received a $950,000 grant from the Israel-U.S. Binational Industrial Research and Development (BIRD) Foundation. Tursunov was the "first in human" test, Rhodes said, and now the company plans to use the funding to update the product, start clinical trials, and get the product to market in both the U.S. and Europe within two to three years.