Israeli Banks Discuss Possible Collaborations with Amazon
Among the options discussed are providing bank credit card holders with Amazon discounts, and bank accounts dedicated to shopping on the online retailer's websites
Bank Poalim and Bank Leumi, Israel's two largest banks, are holding talks with Amazon regarding potential collaborations, according to people familiar with the matter who spoke with Calcalist on condition of anonymity. Leumi is also holding similar talks with eBay, these people said.

For daily updates, subscribe to our newsletter by clicking here.

Amazon and Leumi declined to comment.

A representative for Poalim stated the bank does not comment on business negotiations until the final stages of closing a deal.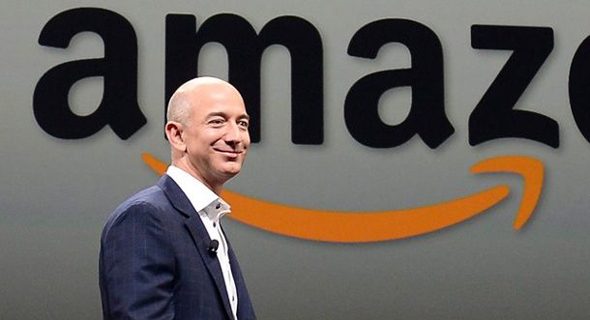 Amazon founder and CEO Jeff Bezos. Photo: Reuters

In November 2017, Calcalist reported that Amazon is preparing to set up a local retail outpost in Israel. The company has been in contact with local delivery companies throughout 2018.

Representatives of the two banks have recently held several meetings with Amazon representatives, the people familiar with the matter said. Among the options discussed were providing bank credit card holders with Amazon discounts, and bank accounts dedicated to shopping on Amazon.

Such programs could replace a benefits program Leumi is slated to lose once a sale of its credit card issuer Leumi Card to private equity firm Warburg Pincus LLC goes through.

The American retailer already has similar collaborations with several leading financial institutes, such as JP Morgan & Chase. These collaborations enable Amazon to gain a footprint in the financial sector without going through the regulatory red tape of setting up a bank of its own, though it does already provide loans to sellers on its platform.

Other options being discussed is leveraging Amazon's cloud services and the banks' data to create a financial platform that will let users compare the prices of various financial services, and issuing credit cards in partnership with Amazon.

Arik Pinto, the CEO of Poalim, has referred in the past to Amazon and more generally to tech companies as both potential competition and potential partners.

"The competition is no longer between banks, but between banks and Amazon and Google," Pinto said in a December Calcalist conference. While they are a threat, tech companies are also eager to partner up with banks, he added.