Opinion
Silicon Valley or New York: for Many Israeli Startups This Is No Longer the Question
Israeli startups find attractive landing pads in the U.S. outside the major tech hubs, in cities such as Detroit, Tampa, and Atlanta
The Bay Area or New York— many Israeli startups looking to enter the American market have grappled with the question of where to set up shop. New York has made considerable strides building a robust ecosystem to support startups and tech talent. These include the creation of the Global Cyber Center initiative that plans to make New York the global center for cybersecurity and the Cornell-Technion campus on Roosevelt Island. Additionally, New York is an environment generally receptive to Israeli business. Still, it is just one of many available landing pads outside Silicon Valley.

For daily updates, subscribe to our newsletter by clicking here.

The migration of talent—and capital—from the Bay Area to new and emerging ecosystems, bolstered by public and private partnerships to build these ecosystems as drivers of economic growth, has increased the competition over international startups. In this setup, Israeli startups are often well-received because of the U.S.'s established economic ties with Israel, the involvement, and sometimes financial support of local Jewish communities, and local government strategies that want to mimic Israel's reputed success in building a "startup nation."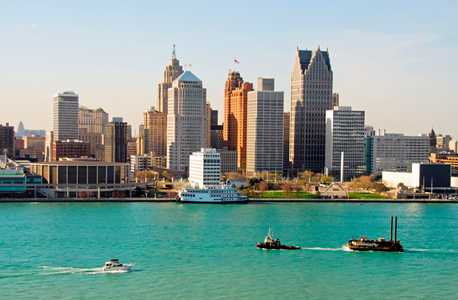 Detroit, Michigan. Photo: Shutterstock

One of these emerging technology hubs is Detroit, a city focused on shedding its image as a bankrupt capital of industry. In light of the automobile and transportation industries' pursuit of automation and driverless technologies, Detroit has been building a local ecosystem that could prove attractive to Israeli mobility startups. Spearheading this initiative is the Michigan Israel Business Accelerator, an organization aiming to facilitate local business and attract Israeli startups to the revitalized automobile capital. The accelerator has been organizing missions of local executives to Israel in order to tour the ecosystem and strengthen relationships.

One local success story is Israeli automotive cybersecurity company TowerSec Inc., acquired in 2016 by connected car and audio technology company Harman International Industries, and now based in Ann Arbor, Michigan. Another Israeli company doing its part to raise Detroit's tech profile is Karamba Security Ltd., a developer of cybersecurity systems for autonomous vehicles, which operates an office in Detroit.

Weather is sometimes a decisive factor for Israeli startups searching for a U.S. base, judging by the rising number of Israeli companies in Florida. Located in Tampa is Florida-Israel Business Accelerator (FIBA), a program created to accelerate post-seed Israeli startups which counts Food waste elimination startup Wasteless Ltd. and customer engagement startup Routier Ltd. among its alumni. FIBA has a specific goal of encouraging the establishment of tech operations in the Tampa area. The hands-on program works with startups looking to solve problems for industries that are well established in the Tampa area such as defense, logistics, and real estate. Israel-based companies like wearable Radiation Shield Startup StemRad Ltd., medtech company UC-Care Medical Systems Ltd., and ECOncrete Tech Ltd., which develops an eco-friendly concrete for marine infrastructures such as ports and marinas, have already opened offices in the city.

A little to the north in Atlanta, the non-profit Conexx has been helping Israeli companies establish a local presence for over twenty years. Two of these companies are cybersecurity company Cyber 2.0 Ltd. and Dune Medical Devices Ltd. With a vision to make Atlanta one of the top five tech cities in America, the startup hub Atlanta Tech Village serves as a soft-landing pad for startups such as Israel-based Oktopost Technologies, Inc. In a recent conversation, Daniel Kushner, CEO of Oktopost told me about his decision to locate to Atlanta. "Local talent was a major consideration in our decision," he said. "The concentration of SaaS companies in the area made Atlanta an attractive location to open an office in the U.S."

Jonathan 'Yoni' Frenkel heads YKC Media, a digital marketing agency delivering content to the millennial and tech professionals market. He's been involved in the New York Israeli tech community for many years and previously held roles as a non-profit professional at both the IAC Dor Chadash and AIPAC.