Aeronautics to Be Acquired by Defense Contractor Rafael and Businessman Avihai Stolero
The deal is still subject to approval from Aeronautics' shareholders, including Israeli businessman Aaron Gover Frenkel, who recently acquired a 30% stake in the company
Israel-based drone maker Aeronautics Ltd. has confirmed in a Wednesday filing to the Tel Aviv Stock Exchange it has signed a deal to be acquired by Israeli defense contractor Rafael Advanced Defense Systems Ltd. and Israeli businessman Avihai Stolero. According to the filing, Rafael and Stolero will pay NIS 850 million ($235 million) for full ownership of Aeronautics, which will become a private company following the deal. The sum is a premium of 23% on Aeronautics' average stock price over the past 30 days.

For daily updates, subscribe to our newsletter by clicking here.

Calcalist broke the story on the deal closure earlier this morning.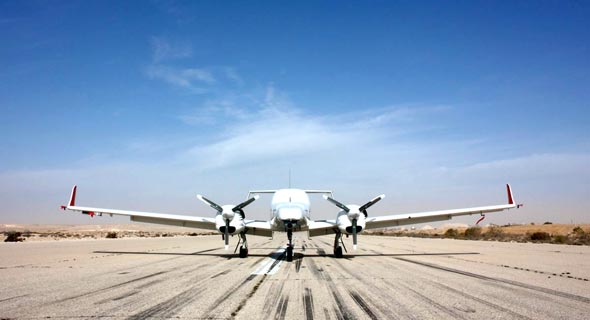 An Aeronautics drone. Photo: PR
Aeronautics develops military drones and has more than 45 defense, military, and homeland security customers worldwide. The company's stock took a big hit when in August 2017 the Israeli Ministry of Defense halted the company's license to export a loiter munition UAV system to an unnamed but prominent client, leading to the launch of an investigation by Israeli Police and the Israel Securities Authority for suspected violations of the Israeli defense export controls law. The license was reinstituted earlier this month.
The deal is still subject to approval from Aeronautics' shareholders, including Israeli businessman Aaron Gover Frenkel, who recently acquired a 30% stake in the company. Aeronautics stated it expects the merger to be completed within four to six months.
Aeronautics rejected a NIS 430 million (approximately $116.6 million) offer from Rafael and Stolero in August. The two increased their bid to $231 million in January, after Frenkel and government-owned defense contractor Israel Aerospace Industries Ltd. also started expressing interest in the company.