New York's TLC to Implement Car Sharing Technologies
The technology will be supplied by GoTo Mobility, a fully owned subsidiary of Tel Aviv-based car-sharing company Car2go and will let the drivers leasing the car manage their sub-leases and receive payments
The New York City Taxi and Limousine Commission (TLC), a municipal agency that licenses and regulates taxis and for-hire vehicles in the city, will accommodate licensed Uber and Lyft drivers who wish to share their leased TLC vehicles using an app. The app developed by GoTo Mobility Ltd., a fully owned subsidiary of Tel Aviv-based car-sharing company Car2go Ltd., lets the drivers leasing the car manage their sub-leases and receive payments. The deal was announced Thursday in a filing to the Tel Aviv Stock Exchange by Car2Go's parent company Shagrir Group Vehicle Services Ltd.

For daily updates, subscribe to our newsletter by clicking here.

In November, French automaker Groupe Renault announced it has launched a fleet of 150 electric Renault ZOE vehicles for local car-sharing use in Malta in partnership with GoTo.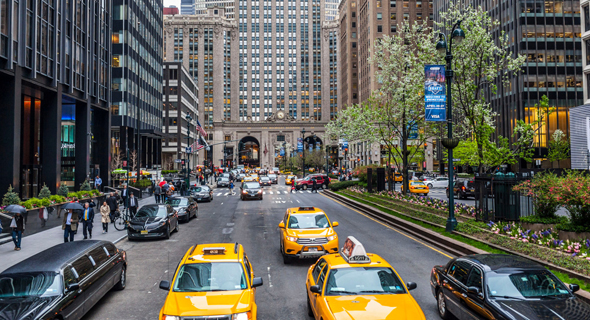 Cars in New York City. Photo: Getty Images