Satellite Troubles Prompt Israeli Broadcaster to Switch to Fiber Optics
Israeli satellite television provider Yes announced Thursday it will phase out its satellite-reliant broadcasting in favor of internet-based television, following other local rivals
Israeli satellite television provider Yes announced on Thursday its intention to switch to fiber optics broadcasting, following in the footsteps of local rivals Cellcom and Partner. The company stated the move, expected to take around seven years, will cut costs and provide a better fit for current market realities. Yes has seen its market valuation cut repeatedly over the past few years and recently announced it will lay off almost 20% of its employees.

For daily updates, subscribe to our newsletter by clicking here.

Last week, Calcalist reported, citing people familiar with the matter, that Yes is considering extending its contract for Israeli satellite AMOS-7 by two years due to the delays in building AMOS-8. Yes announced late last year its withdrawal from the agreement to receive services from AMOS-8, which was originally set to launch in 2020 but funding constraints delayed its construction.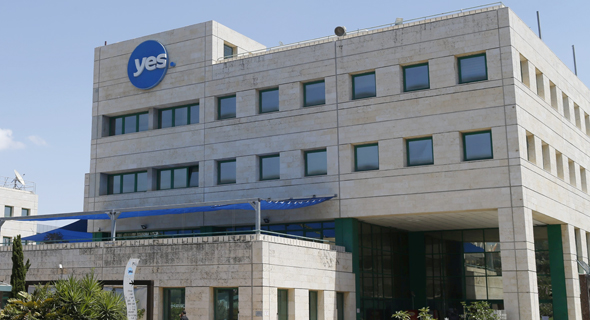 Yes' offices in Kefar Saba, Israel. Photo: Amit Sha'al

The AMOS series of satellites is operated by Israel-based company Space Communication Ltd. (Spacecom). The company leased AMOS-7 for a four-year period following the 2016 destruction of its previous satellite AMOS-6 in a pre-launch explosion.

Yes is a subsidiary of Israel's largest telecom Bezeq, which is one of three players in the local fiber optics market and is currently in the process of rolling out infrastructure in urban areas.

Both Bezeq and Spacecom were previously subsidiaries of Israeli holding company Eurocom Group currently in receivership.

In 2017, around 30% of Spacecom's revenues came from Yes. The company's market valuation took a hit after the 2016 explosion lost the company several deals including an acquisition offer, and the delays with AMOS-8 sank the stock further. Since the company announced two weeks ago that AMOS-17, which already has a client lined up, will launch in May-June this year and bring profit as of September, Spacecom rose by around 90% on the Tel Aviv Stock Exchange.