Spacecom Terminates SpaceX Satellite Launch Deal
The Israeli satellite operator is set to contract Israeli IAI to build its next satellite
Israeli satellite operator Space Communication Ltd., known as Spacecom, has withdrawn from a deal it signed with SpaceX last year for the launch of its AMOS-8 satellite. Spacecom announced the deal's termination on Tuesday in a filing to the Tel Aviv Stock Exchange.

For daily updates, subscribe to our newsletter by clicking here.

Spacecom also announced it has officially terminated a deal it signed with Palo Alto, California-based Space Systems/Loral LLC for the construction of the satellite. Spacecom signed the $112 million deal in March.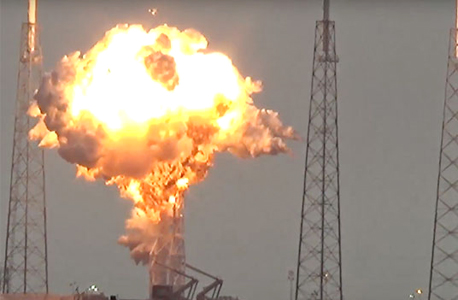 Explosion on the launch pad of AMOS-6. Photo: EPA

AMOS-8 is intended to replace AMOS-7, leased by Spacecom for four years following the 2016 destruction of its previous satellite, AMOS-6, in a pre-launch explosion. As a result of the accident, caused when a SpaceX Falcon 9 rocket exploded on the launch pad, Spacecom lost a $95 million deal with Facebook and a planned $285 million acquisition by Shanghai-listed telecommunications technologies supplier Beijing Xinwei Technology Group Ltd.

Earlier this month, the Israeli Ministry of Science, Technology and Space announced its decision to fund the construction of AMOS-8 in Israel. At the time, Calcalist reported that the government's support will allow Spacecom to withdraw from its dealings with U.S. contractor Loral.

In March, Calcalist reported that IAI needed government funding of $20.1 million (NIS $70 million) a year, over several years, to be able to secure the AMOS-8 contract, citing two people familiar with the matter. These people said Spacecom's deal with Loral was used to pressure the Israeli government to provide the necessary funding for the satellite to be built domestically.