Men Are the Guests Here, Says Founder of Tel Aviv Women-First Coworking Space
Galit Ana Ben Simhon is the founder and CEO of Panthera, Israel's first coworking space for women
At Panthera, Israel's first coworking space for women, most of the area was designed as a shared open space, to encourage interaction. "Women seek a dialogue, while men often opt for a monologue," says Galit Ana Ben Simhon, Panthera's co-founder, and CEO, in a recent interview with Calcalist.
For daily updates, subscribe to our newsletter by clicking here.
The Tel Aviv space, which opened last month, admits female entrepreneurs and companies run by women. The name, which means 'female panther' in Hebrew, is a common accolade here, meant to signify power and poise. The sprawling 1,000-square-meter space is decorated with murals, contemporary art pieces, and panther statues.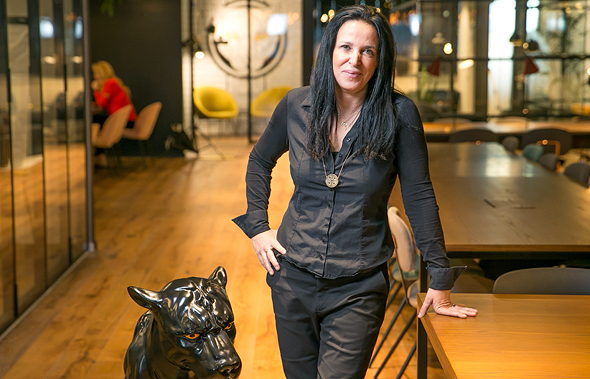 Galit Ben Simhon. Photo: Orel Cohen
"It is not your regular WeWork-type coworking space," said Ben Simhon. "It is a business accelerator offering everything a woman entrepreneur needs under one roof." Ben Simhon also refers to Panthera as a "campus for practical management and female networking." Among other services, Panthera offers cultural events, lectures, and business courses, with a roster that includes seminars on artificial intelligence and on investing in the stock exchange.
A number of women-first coworking spaces come member clubs have popped up in recent years, boosted by the growing popularity of the coworking business model and the global re-energizing of the feminist movement. Founded in 2015, New York-based coworking space and high-end members-only social club The Wing opened its first coworking location in 2016 with annual memberships costing approximately $3000, quickly amassing a wait list in the thousands. The Wing now operates five locations in the U.S., with six more planned to open in 2019 in the U.S., London, and Toronto. Similar female-oriented workspaces are opening wherever the coworking space is a gainful business model.
Ben Simhon, a former executive at Israeli satellite television provider YES and insurance companies AIG and Phoenix, introduces herself as a social entrepreneur. To open Panthera, she partnered with Limor Dahan, a radio broadcaster and media persona who serves as vice president of content, and Shani Burstein, a veteran digital strategy and marketing consultant, who is Panthera's vice president of digital activities.
"Panthera was conceived for business networking, to create inspiring business models and develop skills," Ben Simhon said. Over the years, she said, she had outlined two significant hurdles to success—one is the lack of business skills, such as management, marketing, and strategy. The other is the lack of networking opportunities.
"The situation is worse for women. From the get-go we arrive at a male-dominant world, run according to male conduct and values," she said. "When the feminist revolution happened, what it did is to add on a job," she said, adding that women's careers are often hindered by operating in a world that does not heed the emotional and logistic burden of parenting.
Last year, a workspace for parents opened in the small tech bubble of Ra'anana, a city not far from Tel Aviv. Called Mommy Work, it offers on-site daycare and a schedule that emphasizes both work and play.
Women in Israel suffer a larger gender wage gap than the global average, earning just 69% of the average male monthly salary in 2017, according to a new report published by the Israeli Central Bureau of Statistics in December 2018.
While they account for 49% of the Israeli workforce, women are severely underrepresented in Israel's leading tech industry. A report published last year by Israel-based market research firm IVC Research Center Ltd. stated that women accounted for just 7% of the founders or co-founders of Israeli startups between 2000 to 2017. Female entrepreneurs also raised half the median amount of capital per round raised by their male counterparts.
Panthera's goal, Ben Simhon said, is to support organizational models that suit women, build a new set of professional values, and allow flexibility. More than just real estate, Panthera aims to serve as a members club for women.
Raising the funds necessary to build Panthera was not easy, Ben Simhon said. It took them a year and a half, but the founders eventually raised nearly NIS 6 million (approximately $1.7 million), mostly from women, including venture capitalist Fiona Darmon and Israeli actress Asi Levi. Now, Panthera's founders want to open additional locations, in Israel and Europe.
The goal, Ben Simhon said, is to create a female ecosystem with powerful networks across the world. The ultimate goal, she said, is to launch a venture capital fund that will invest exclusively in female-led businesses.