Chips, Electronics Components Exports From Israel to China Nearly Doubled in 2018
Intel exports most of its Israel-manufactured components to China, where it has several testing and assembly facilities
In 2018, export of electronic components from Israel to China increased by 80%, according to new data published earlier this month by Israeli government agency the Israeli Export Institute. The report shows that $2.6 billion worth of electronic components were shipped from Israel to China over the past year, most manufactured by only a few companies, among them chipmaker Intel. According to the report, Intel exports most of its Israel-manufactured components to China, where it has several testing and assembly facilities.

For daily updates, subscribe to our newsletter by clicking here.

Electronic component export from Israel to the U.S. fell 20% in 2018 according to the report, totaling $860 million. While the U.S. is still Israel's largest export market by a large margin—despite a 3% decrease from 2017, total export still amounted to $10.9 billion—China has now bypassed the U.K. as Israel's second largest export market.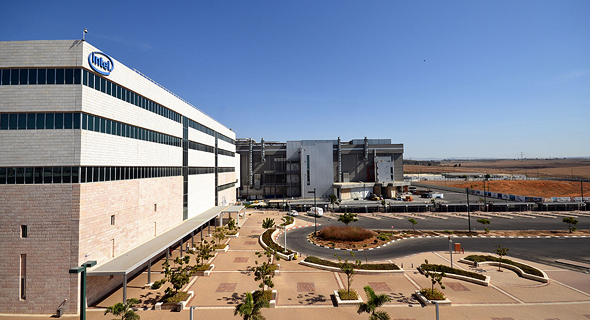 Intel's Kiryat Gat facility. Photo: PR

Intel's export from Israel in 2018 amounted to $4 billion in total, according to previous statements by the company. The chipmaker has recently announced it will invest $11.9 billion to expand its fabrication operations in southern Israeli town Kiryat Gat, where it has two fab facilities.

An Intel spokesman declined to comment.

U.S.-China relations have been fraught with tension since early 2018, when U.S. President Donald Trump increased tariffs on billions-worth of Chinese imports, leading to a series of one-ups between both countries. The unease has raised concerns about China blocking U.S.-related deals. In July, a $44 billion acquisition of Dutch chipmaker NXP Semiconductors NV by U.S. chipmaker Qualcomm Inc. fell through after Chinese regulators failed to approve the transaction by its deadline.

In February, the Wall Street Journal reported China has offered to increase purchases from semiconductor manufacturers in an attempt to alleviate the tension. According to a later Wall Street Journal report American semiconductor companies are less than enthused with the plan, worried that increased sales would come with increased Chinese control over the industry.