Despite Alleged Ceasefire, Schools Closed in Gaza, Southern Israel
Following a rocket fired from the Gaza Strip Monday morning that directly hit a local home in a suburb northeast of Tel Aviv injuring seven people, Israel bombed Hamas targets in Gaza
Following a rocket fired from the Gaza Strip that directly hit a local home in a suburb northeast of Tel Aviv injuring seven people Monday, Israel bombed Hamas targets in Gaza.

For daily updates, subscribe to our newsletter by clicking here.

The Israeli military's spokesperson unit said in a Monday tweet that the Israeli Air Force destroyed the offices of Hamas leader Ismail Haniyeh and attacked dozens of other targets in Gaza. The targets include compounds belonging to both Hamas and Islamic Jihad.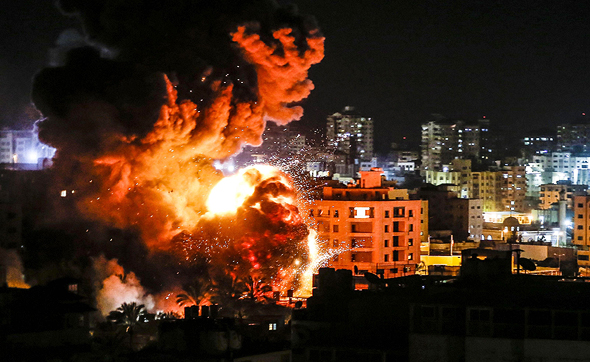 Israeli strike in Gaza Monday night. Photo: AFP

Dr. Ashraf Al-Qudra, spokesperson of the Ministry of Health in Gaza, Tweeted that as of Monday night, seven injuries were reported in the Gaza strip.

Throughout the night, rockets were fired from the strip into southern Israel, leading several municipalities to close schools for the day. Schools in the Gaza strip were also closed for the day.

The Israeli military Tweeted videos of rockets being fired into Israel.
WATCH: The skies of southern Israel tonight. Dozens of rockets are being fired by #Hamas at Israeli civilians. pic.twitter.com/bnbBFfff77

— Israel Defense Forces (@IDF) March 25, 2019
Despite Hamas tweeting that Egypt had successfully brokered a ceasefire Monday night between the Palestinian factions in Gaza and the Israeli military, the cross border fighting continued.

Israeli Prime Minister Benjamin Netanyahu cut his trip to Washington D.C. short to return to Israel.

U.S. President Donald Trump announced the U.S. would officially recognize Israel's sovereignty in the Golan Heights in a joint press conference with Netanyahu Monday.

Democratic presidential candidate Kalama Harris Tweeted Monday she met with California AIPAC leaders and discussed "Israel's right to defend itself."
Great to meet today in my office with California AIPAC leaders to discuss the need for a strong U.S.-Israel alliance, the right of Israel to defend itself, and my commitment to combat anti-Semitism in our country and around the world. pic.twitter.com/83Yrrbw4Q8

— Kamala Harris (@SenKamalaHarris) March 25, 2019