Months After Shifting to No-Cash Policy on Buses, Israel Launches Tourist Travel Card
Called "Israel Pass" the chargeable card is currently being sold exclusively at Tel Aviv's Ben Gurion International Airport, the country's main entrance portal
Three months after Israeli public transportation eliminated cash payments for rides, shifting to a personal chargeable card system, the country's ministry of transportation has come up with an alternative payment system to accommodate tourists and other non-permanent residents. On Sunday, the ministry announced the launch of "Israel Pass," a chargeable transportation card, currently being sold exclusively at Tel Aviv's Ben Gurion International Airport, the country's main entrance portal.

For daily updates, subscribe to our newsletter by clicking here.

In Israel, the process of issuing a chargeable public transportation card is relatively cumbersome and can only be done at designated card issuance stations, normally available at large train or bus stations, which are located away from city centers. Issuing the card is free, so long as the user is willing to submit personal details and documents and to have their picture taken, a process that most tourists tend to avoid, especially for a short visit.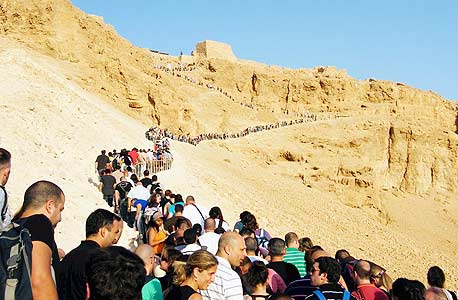 Tourists at Masada National Park in southern Israel. Photo: Eran Yoran

An anonymous card is available for purchase directly from bus drivers for a small fee of NIS 10.9 (approximately $3) but it comes pre-charged with a single ride's worth, meaning tourists must find a charging station before they can ride the bus again. Though many charging stations are available across cities in kiosks and ATMs, they are generally only marked in Hebrew, making them hard for tourists to find.

Tourists will have to pay more for their anonymous cards in exchange for convenience—the "Israel Pass" alone, not including any plans or cash charged, costs between NIS 83 (approximately $23) and NIS 115 (approximately $32). In accordance with its price, the "Israel Pass" also offers free entrance to three or six national parks, chosen from a list of 70 natural and archeological sites that includes Massada, Eilat's coral beach, and Caesarea. Full price for entrance to Israel's national parks typically ranges from NIS 15 to NIS 39 (approximately $4-$11).

Tourists will be able to pre-charge their "Israel Pass" with cash—receiving the same 20% discount when charging a sum of at least NIS 30 (approximately $8) offered to locals—or with daily and weekly plans.