Citigroup CEO Meets With Tech Entrepreneurs in Tel Aviv
Michael Corbat arrived in Tel Aviv Wednesday morning and visited Citi's innovation lab before meeting with local cybersecurity and fintech entrepreneurs
Citigroup Inc. CEO Michael Corbat has arrived in Israel Wednesday morning and met with Israeli tech entrepreneurs. Corbat visited Citigroup's Tel Aviv innovation hub, the bank's largest hub outside the U.S. He then met with representatives of Israeli startups who are part of Citi's local accelerator program, as well as with entrepreneurs in the fields of cybersecurity and fintech. The meetings took place at Labs, a Tel Aviv shared office space operating under the Teddy Sagi Group. A person familiar with Corbat's Tel Aviv itinerary spoke to Calcalist on condition of anonymity.

For daily updates, subscribe to our newsletter by clicking here.

As part of his visit, Corbat participated in a roundtable meeting, hosted by Neil Corney, CEO of Citi's operations in Israel. The meeting was attended by Israeli tech luminaries including Rona Segev, managing partner at Tel Aviv-based venture capital firm TLV Partners; venture capitalist Haim Shani, co-founder of Israel Growth Partners (IGP) Ltd.; Michal Tsur, co-founder of video creation and distribution company Kaltura Inc.; Fiverr co-founder and CEO Micha Kaufman; Payoneer founder Yuval Tal; Imperva co-founder Mickey Boodaei; and tech entrepreneur and venture capitalist Yuval Shachar.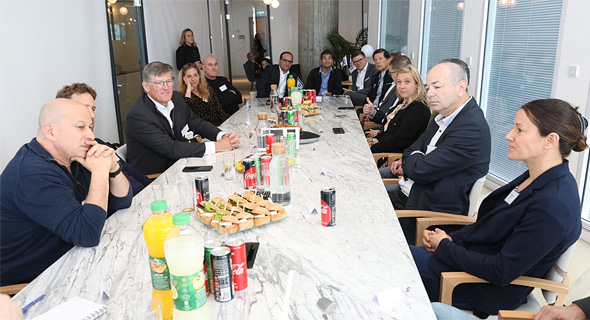 Michael Corbat (third from left) meeting with Israeli tech luminaries. Photo: PR

This is Corbat's second visit to Israel. In 2014, he attended the opening of Citi's innovation hub and accelerator program in Tel Aviv. Citi's local hub employs around 200 people focusing on artificial intelligence and machine learning applications, robotics, data processing, and fintech.

Citi has backed several Israeli startups. Last week, online event planning startup HoneyBook Inc. announced a $28 million funding round led by Citi Bank's venture capital arm Citi Ventures. Citi also invested in Israeli cargo monitoring startup Contguard Ltd. and fintech startup Access Fintech Ltd.