Venture Firm New Era Capital Raises a $60 Million Fund
New Era focuses on startups touting a positive environmental and social impact
Tel Aviv-based venture capital firm New Era Capital Partners announced Wednesday it has raised a $60 million fund. The new fund will invest in 12 to 14 startups which have a working product and are already generating revenues.

For daily updates, subscribe to our newsletter by clicking here.

New Era was founded in 2018 by managing partners Gideon Argov and Ran Simha, and Ayelet Frish, who serves as the firm's vice president of business development. Nechemia (Chemi) Peres, managing general partner and co-founder of Israeli venture firm Pitango, chairs the fund's international advisory board.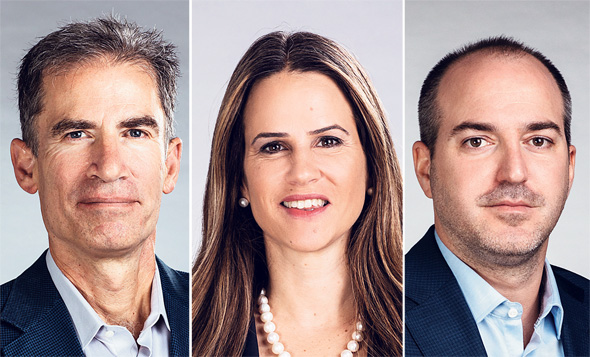 New Era's co-founders Gideon Argov (left), Ayelet Frish, and Ran Simha. Photo: Elad Malka

The firm focuses on startups touting positive environmental and social impact. New Era has already invested in companies including Israeli public transportation optimization startup Optibus Ltd., digital textile dyeing startup Twine Solutions Ltd., and payroll management startup Papaya Global Ltd.

"When we look into a company, we consider the return on investment, but no less important to us is how the technology is going to make the world a better place," Frish told Calcalist in an interview Wednesday. "If we are debating between three companies, we will opt for the one that has a more positive impact on the environment."

Optibus is one such company, Simha told Calcalist. The company develops fleet management and optimization software that supplies public transit operators with recommendations based on real-time data. In December 2018, Optibus was backed by Chinese e-commerce giant Alibaba Group Holding Ltd. as part of a $40 million funding round. "Optibus does not only triple its revenues with each passing year, it manages to reduce thousands of kilometers of buses driving empty," Simha said. "According to the data they provided us, they helped reduce some 4,000 tonnes of CO2 by optimizing bus usage."