Board of Dronemaker Aeronautics Approves Acquisition by Rafael
The deal, announced in February, reflects a company valuation of NIS 850 million ($237 million) for Aeronautics
The board of directors of Israel-based drone maker Aeronautics Ltd. has approved the company's full acquisition by Israeli defense contractor Rafael Advanced Defense Systems Ltd. and Israeli businessman Avihai Stolero, the company announced in a filing to the Tel Aviv Stock Exchange Thursday. The deal, announced in February, reflects a company valuation of NIS 850 million ($237 million) for Aeronautics.

Israeli businessman Aaron Gover Frenkel, who acquired 30% of Aeronautics in a series of deals performed since December, will sell his stake as part of the deal. Aeronautics, which listed on the Tel Aviv exchange in 2017 according to a company valuation of NIS 1 billion, will delist upon the deal's completion.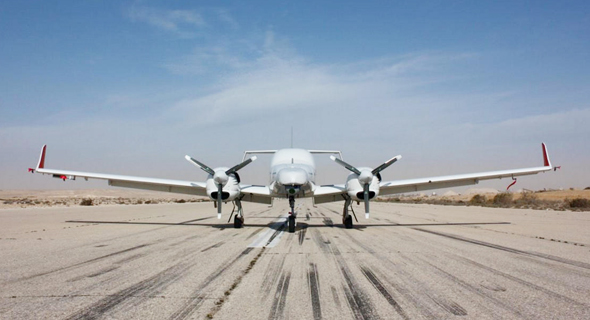 An Aeronautics drone. Photo: PR
Aeronautics, which develops military drones and has more than 45 defense, military, and homeland security customers worldwide, took a big hit in August 2017 when the Israeli Ministry of Defense halted the company's license to export a loiter munition UAV system to an undisclosed but significant client. Israeli Police and the Israel Securities Authority soon after launched a prove for suspected violations of the Israeli defense export controls law.
While the company's export license was reinstituted in February, the long investigation impacted both Aeronautics' stock performance and its revenues, leading the company to close 2018 with an operational loss of $5 million. Several parts of the investigation are still ongoing, with company executives possibly facing charges later this year.