Israeli Company Raises Over $1 Million to Spike Pizza With Cannabis
Cannibble develops pre-made food and beverages such as cake mixes, sweeteners, iced coffee mix, and toppings for pizza and popcorn, which the company says could get consumers high
Cannabis-enriched food company Cannibble FoodTech Ltd. has raised more than $1 million from 1,100 backers in a crowdfunding campaign, the company announced Monday. Cannibble is the first company to surpass the $1 million mark using Israeli crowdfunding platform Pipelbiz, a Pipelbiz spokesperson said in a phone call with Calcalist Monday.

Cannibble develops pre-made food and beverages such as cake mixes, sweeteners, iced coffee mix, and toppings for pizza and popcorn, which the company says could get consumers high. Cannibble's products are enriched with THC, the psychoactive component in marijuana, and CBD, which is considered to have medicinal benefits.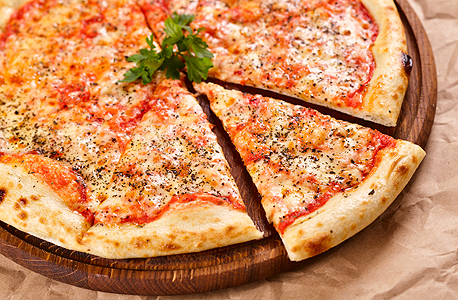 Pizza (illustration). Photo: Shutterstock

Founded in 2018 and based in the Tel Aviv suburb of Kfar Saba, the company announced in January that it raised $655,000 (NIS 2.4 million) using Pipelbiz.