Teva Execs Topped TASE's High Earners List for 2018
With nearly $34 million added to the bank, Teva's CEO Kåre Schultz was the highest earning executive on the Tel Aviv Stock Exchange last year
With an annual salary of NIS 121.7 million ($33.9 million), including his NIS 20 million ($5.57 million) signing bonus, Teva CEO Kåre Schultz is the the highest earning executive on the Tel Aviv Stock Exchange. Four other executives of Teva Pharmaceutical Industries Ltd. made the top 20 list of highest earners on the TA-125 index, which lists the 125 highest capitalized companies, according to the annual reports for the fiscal year 2018 recently published by all companies.

For daily updates, subscribe to our newsletter by clicking here.

According to a Teva filing on Tuesday, five executives of the pharmaceutical company earned NIS 209.4 million ($58.3 million) between them in 2018, 45% of the combined annual salaries of all top 20 earners.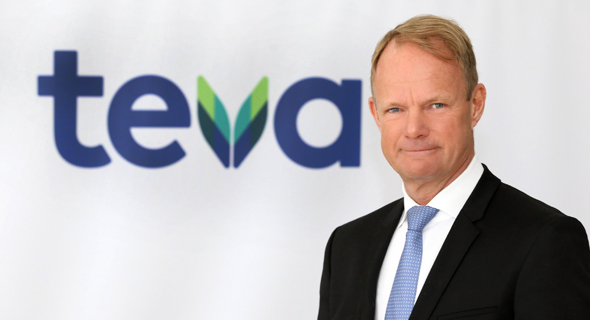 Teva CEO Kåre Schultz. Photo: Sivan Farage

NYSE and Tel Aviv-listed pharma company Perrigo Company PLC, one of the only non-Israeli companies on the index, was also represented by five executives on the top 20 list. Former CEO Uwe Roehrhoff came a distant second to Schultz with NIS 44.7 million ($12.45 million), with the remaining four rounding Perrigo's total to NIS 101.3 million ($28.2 million).

In third place in terms of individual earnings was Barak Eilam, the CEO of Nasdaq-listed software company Nice Ltd., who made NIS 39 million ($10.86 million) in 2018.

With the exclusion of Teva, Perrigo, and Nice, the average annual wage of a senior TA-125 executive—of which there were 519 in 2018—was NIS 2.7 million ($750,000). The remarkable difference in wages between the top 20 earners and the rest of the TA-125 executives highlights the difference between a global company and an average Israeli company traded on the index.

Only nine of the 20 top earners in 2018 were Israeli, the rest being international managers imported by local companies.

Additionally, out of all 519 top executives on the index, only 57 were women. Female executives earned on average NIS 2.1 million ($580,000), a whopping NIS 1 million ($280,000) less than the average salary enjoyed by male executives. Teva executive vice president Hafrun Fridriksdottir, appointed in 2017 as part of the company's restructuring, was the highest female earner with NIS 22.4 million ($6.24 million). Beth Gaspich, Nice's chief financial officer, came in second with a much lower NIS 7.9 million ($2.2 million).