Analysis
Teva's Schultz is Running Out of Rope
In the fourth quarter and annual earnings reported by the company Wednesday, Teva missed analyst consensus for non-GAAP earnings per share, and shareholders seem to be losing patience
Teva Pharmaceutical Industries Ltd. is running out of rope. In the fourth quarter and annual earnings reported by the company Wednesday, Teva missed analyst consensus for non-GAAP earnings per share, and shareholders seem to be losing patience.

For daily updates, subscribe to our newsletter by clicking here.

While the stock has still not reached the low point of around $15 it hit in November 2017, when Kåre Schultz was announced as the company's CEO, the company closed at $17.63 on NYSE on Wednesday. If the stock valuation is an indicator of how much leeway shareholders are giving Schultz, the answer seems to be not a lot.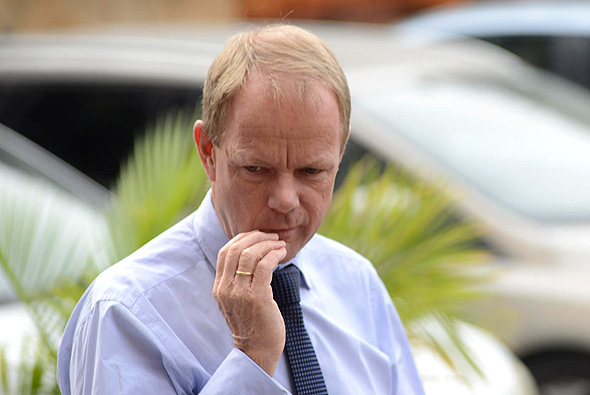 Teva CEO Kåre Schultz. Photo:Yuval Chen

The most problematic takeaway from Teva's report and forecasts for 2019: this year Teva has no good story to tell shareholders. You can't bore the market to success. Teva has two potential promises, migraine injection Ajovy and Austedo for Huntington's disease and tardive dyskinesia. Both are expected to see an increase of only around $150 million in 2019, much too little to be considered significant growth generators for a company with an annual turnover of $17.4 billion.

Investors are looking for something that will provide the company with a push forward. While Schultz has been diligent when it comes to Teva's reorganization and recovery, taking aggressive steps such as extensive layoffs and managing to cut the company's debt significantly, it now seems as though the optimism that accompanied the first few months of his tenure was inflated.

Over the last year, analysts and investors repeatedly conveyed their impression that while 2018 hit Teva hard, the company may end the year on a high note. Warren Buffett's Berkshire Hathaway Inc. took a stake in the company several times throughout 2018, providing a stamp of approval despite Buffet stating he wasn't personally involved in the decision.

As 2019 starts Teva's management is sending a similar message: the company is bottoming, and from here on will start to present growth. Schultz's long-term plans will be made clear, new drugs will create new revenue streams, and even the erosion in Copaxone profit may start to stabilize.

Earning figures tell a different story. In North America, sales of the multiple sclerosis drug dropped by 44% in the last quarter of 2018, compared to the same quarter in 2017. A more moderate decline was seen in Europe, though Schultz said that overall, "Europe had its best year ever in terms of operating profit for Teva."

Teva's cash cow for long years, Copaxone is on the way to become just another low-profitability generic drug. As management expects the drop in sales to even out in the next few years, it seems the majority of the damage will come from Copaxone's generic rivals.

CEO Schultz is ending his first full year at Teva in a difficult position. The company is still in the midst of offloading ill-fated Actavis, the acquisition of which landed Teva with its current debt. The fallout from the deal is likely to continue to haunt Teva for years to come.

To date, Teva wrote off $20 billion as a result of the acquisition. In 2018, the company erased 14% of its debt, closing the year with a $27.1 billion debt. While the company can now repay the debt without resorting to refinancing, according to Schultz, the debt narrows down the set of opportunities that can be leveraged by management.

The combination of layoffs and asset divestments instigated by Schultz brought Teva to a place where it can actually meet its debt covenants.

Wednesday, however, showed that that hope for significant growth is still far.