Israeli Boutique Hotel Chain to Open $50-a-Night Capsule Hotel
The company is hoping to launch the new hotel in May, just in time for the 2019 Eurovision song competition
Israeli boutique hotel chain Brown is set to launch a $50-a-night capsule hotel in Tel Aviv, founder Leon Avigad confirmed to Calcalist earlier this week, describing the project as a "boutique hostel." The company is hoping to launch the new hotel in May, just in time for the 2019 Eurovision song competition. Set to be held in Tel Aviv, the international event is expected to draw large numbers of tourists.
For daily updates, subscribe to our newsletter by clicking here.
The new hotel is the first in a planned chain of low-cost hotels, to be operated under the moniker WOM (short for word of mouth) by Brown Hotels in collaboration with Israeli architects and entrepreneurs Lihi and Din Gerstner. Work has recently begun on the first WOM hotel on the lower floors of the Ben Yehuda Street building where Brown recently opened the Lighthouse boutique hotel.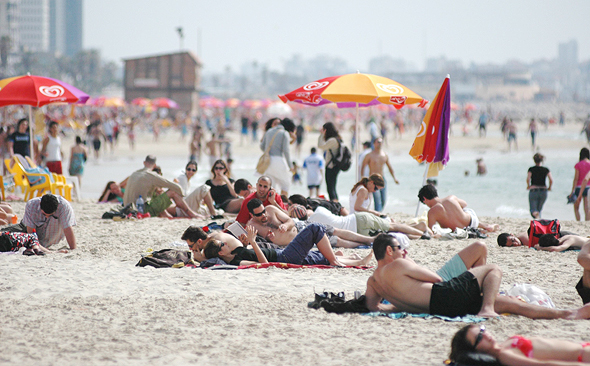 Tourists in Tel Aviv. Photo: Bloomberg
The upcoming 100-room complex is set to contain single and double 2-square-meter rooms with shared bathrooms. A dedicated mobile app will let guests know when the bathrooms are free to use.
Founded in 2010, Brown, listed as Brown Ha-Moshava Boutique Hotels Ltd., operates hotels in Tel Aviv, Jerusalem, and Trogir, Croatia.