List
These Israeli Entrepreneurs Managed to Breed Their own Unicorns
Israeli Innovators take up a large share of startups valued at over $1 billion with companies operating in such diverse fields as home improvement, shared spaces, and insurance
There is ample representation for the Israeli tech ecosystem among 300 unicorns listed by market intelligence company CB Insights. This representation includes such companies as taxi hailing company Gett Inc., valued at $1.4 billion; data storage startup Infinidat Ltd., valued at $1.6 billion, web and mobile monetization company IronSource Ltd., with a valuation of $1.5 billion; and visual aid company OrCam Technologies Ltd., founded by Mobileye co-founders Ziv Aviram and Amnon Shashua, which is valued at $1 billion.

For daily updates, subscribe to our newsletter by clicking here.

WeWork, the New York-based coworking real estate company co-founded and headed by Israeli entrepreneur Adam Neumann, is ranked high on the list of unicorns with a valuation of $47 billion. This week, WeWork (which has recently rebranded itself as The We Company) announced its intention to list on the U.S. Securities and Exchange Commission (SEC).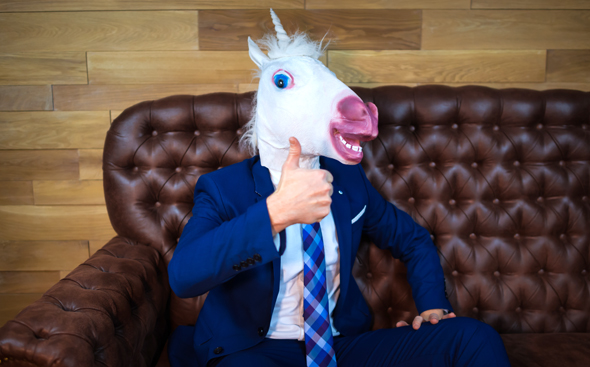 Unicorn (illustration). Photo: Shutterstock

Founded in 2010, The We Company operates over 500 coworking locations in 97 cities around the world. Neumann, who is 40, grew up on an Israeli kibbutz and served in the Israeli navy before moving to New York in his twenties. In a keynote speech in December 2018 at the annual dinner of philanthropic organization the United Jewish Appeal (UJA) Neumann discussed his Israeli and Jewish heritage,saying that observing Jewish Shabbat helps him keep his ego in check. The company's latest funding round, raised in January from one of its long-time backers SoftBank, valued the company at $47 billion.

Neumann is not the only Israeli entrepreneur at the helm of a multi-billion dollars international company. Below are four such Israel-bred innovators who have founded their very own unicorn.

Adi Tatarko and Alon Cohen (Houzz Inc. valued at $4 billion)

Tatarko and Cohen, an Israeli-born married couple, founded Palo Alto-based home remodeling and design company Houzz in 2009. Houzz offers a web and mobile app that lets users communicate with home improvement professionals, shop for homeware from over 20,000 retailers, and use augmented reality simulations to envision how the products and designs will look in their own home. In 2017, Houzz received $400 million in funding with a $4 billion valuation, bringing its overall funding to over $613 million. In an interview with Calcalist last year, Tatarko said that entrepreneurs should hold off on looking for investors until their company has a viable product. "When we raised our first $2 million, we already had 350,000 active monthly users," she said. This put Houzz in a very good place. "Instead of chasing investors, entrepreneurs should spend the first year chasing clients," she said.

Shai Wininger and Daniel Schreiber (Lemonade Inc., valued at $2 billion)

Founded in 2015, Lemonade Inc. offers U.S. clients customizable property and casualty insurance policies at a flat monthly rate. For 2018, the company reported over $57 million in sales, up from $10.1 million in 2017. Last month, Lemonade announced it signed a $300 million funding round led by existing investor SoftBank Group, due to close during the second quarter of 2019. With this latest round, Lemonade's total funding will reach $480 million. The company employs 170 people, 60 of them in its Israeli offices.

Before Lemonade, Schriber was a co-founder and CEO of Alchemedia Inc., acquired by Finjan Holdings for an undisclosed amount in 2003. Wininger is one of the co-founders of online gig marketplace Fiverr Int. Ltd., currently preparing for an IPO according to an $800 million valuation.

Shlomi Ben Haim, Yoav Landman, and Fred Simon (JFrog Ltd., valued at $1 billion)

JFrog was born in 2008 out of the garage of three Israeli friends, Ben Haim, Landman, and Simon. When the three could not secure venture capital financing, they managed to scuff up $500,000 from friends. Today, JFrog delivers code management tools to over 4,500 customers, including Amazon, Google, Facebook, Spotify, Uber, and Netflix. Late last year, JFrog raised a $165 million funding round, bringing its total funding to date to $228 million.

Rafael Sweary and Dan Adika (WalkMe Inc., valued at $1 billion)

Sweary and Adika founded website navigation startup WalkMe in 2011. WalkMe, which lists Amazon, PayPal, and Microsoft as clients, adds a layer of on-screen guidance prompts on top of existing websites, helping users navigate through web pages. WalkMe has raised $207.5 million to date and employs over 650 employees in seven offices in the U.S., Israel, and Australia.

In an interview with Calcalist last year, Sweary seemed unphased by Walkme's entrance into the unicorn club. "It is scary to build an international company, whether it is a unicorn or a snail," he said. "We are responsible for the livelihood of 600 people and that is scary, unicorn is just a bullshit title."