WeWork's Adam Neumann Says Observing Jewish Shabbat Helps Him Keep Ego in Check
The CEO of New York-headquartered coworking real estate company WeWork shared spiritual wisdoms during a keynote speech at a UJA Federation event in December
According to WeWork CEO Adam Neumann, observing Shabbat in compliance with Jewish orthodoxy can cure raging egos and modern age ailments. Giving the keynote speech in December at the annual dinner of philanthropic organization the United Jewish Appeal (UJA) Federation in New York City, Neumann spoke about his first experience observing Shabbat and his deepening connection to his Jewish lineage.

For daily updates, subscribe to our newsletter by clicking here.

A video of Neumann's speech was shared on Linkedin.

"One day, I think it was somewhere around the $5 billion valuation," he said, referring to the December 2014 $355 million series A investment that brought WeWork's valuation to new heights. "I was catching myself not being able to control my ego."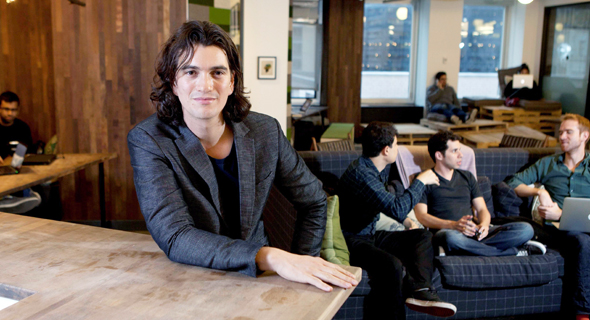 Adam Neumann. Photo: Dan Keinan

Neumann told the audience he went to his Rabbi for help. The Rabbi, he said, suggested he should start keeping Shabbat. "There's never a thing that I will not try at least once," Neumann said, detailing how he went on to spend a Shabbat with his Rabbi in Brooklyn's Crown Heights neighborhood, an experience he dubbed "highly recommended." The experience helped him keep his ego in check, he said. However, he said, jokingly, the effect wears off after about five days.

Observant Jews avoid all labor during Shabbat, between sunsets on Fridays and Saturdays. This includes any form of paid work, writing, traveling, all monetary transactions, and operating any type of machine or electronic device.

In 2017, Neumann told Israeli newspaper Yedioth Ahronoth that he, his wife, and their five children have been observing Shabbat for two years. Neumann then said that the more observant of Shabbat he gets, the more successful his company is.

Speaking at last month's event, Neumann said technology today is taking over people's lives. "When we are 80 years old and looking back at our lives, we will think that for a third of it we were asleep and another third we had a relationship with a machine." While this dependency on technology is "good for business," he said, "it is not God's intention."

Neumann, who grew up secular and served in the Israeli navy before moving to New York in his twenties, made several religious references during his speech, perhaps signifying that he is becoming more observant.

In Israel, he said, "it is so obvious that you are Jewish, you don't respect it." Neumann said he harbored antagonizing feelings towards Judaism before he moved to the U.S. where he came to appreciate his Jewish heritage.

Last month, WeWork nearly got itself in hot water with Jerusalem's ultra-Orthodox (Haredi) community, when community leaders learned the company's first coworking location in the city, launched last year, is open for members wishing to work on Shabbat. WeWork's coworking spaces are accessible with member keycards 24/7, but services by WeWork personnel are not provided on weekends.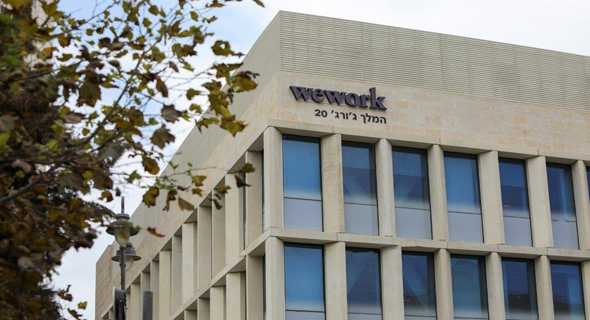 WeWork's Jerusalem location. Photo: Eyal Marilus

Some of WeWork's key investors are ultra-Orthodox Jews, including its first backer Joel Schreiber, a Hasidic Brooklyn real estate investor. Founded in 2010 by Neumann and Miguel Mckelvey, New York-headquartered WeWork has over 500 locations in 97 cities around the world, according to company statements. The Jerusalem coworking site is the company's ninth location in Israel.

"WeWork aims to connect between people and cultures and our expansion in Jerusalem exemplifies our commitment to local communities," the company said in response to the outcry last month.

The company eventually managed to reach an understanding with religious leaders and avoid a boycott.

In November 2018, WeWork's key beneficiary SoftBank Group Corporation committed an additional $3 billion to the coworking company. The commitment gave WeWork an estimated valuation of $42 billion. In a 2017 funding round led by a $4.4 billion investment from SoftBank, WeWork was valued at $20 billion. WeWork reported revenues of $482 million for the third quarter of 2018, and a net loss of $497 million. For the first nine months of 2018, WeWork reported $1.25 billion in revenues, with a net loss of $1.22 billion.

In a 2017 interview with Forbes, Neumann said that WeWork's $20 billion valuation is "much more based on our energy and spirituality than it is on a multiple of revenue."

In interviews throughout the years, Neumann has made multiple references to spirituality and attributed key business decisions to guidance from "spiritual teachers."

Neumann opened his speech last month on a similarly spiritual note, referencing the Jewish holiday of Hanukkah, which had ended the day before, as a period of miracles. "In life, it is not about being afraid of our shortcomings. It is about having the courage to be the full light that we can be," he said. "If each one of us allowed ourselves to be our fullest… there will be peace in the world and the Messiah will be here."