Brief
Lab Beef Company Aleph Farms Raises $11.7 Million
In December, Aleph Farms unveiled its first minute steak grown from a single cell
Israeli lab beef company Aleph Farms Ltd. announced Tuesday it has completed an $11.7 million funding round. The round was led by Singapore-based VisVires New Protein Master Fund Pte. Ltd. (VVNP), U.S.-based meat and egg distributor Cargill Protein, and M Industry, the industrial arm of Swiss supermarket chain Migros.

Aleph Farms was founded in 2017 by The Kitchen, the food-tech incubator of Israeli food processing company Strauss Group Ltd., in collaboration with research university Technion Israel Institute of Technology. In statements, the company has said it is able to reproduce different types of beef cells, such as muscle, fat, and blood vessel cells, to create a structure that closely resembles that of a conventional cut of meat. In December, the company unveiled its first lab-grown minute steak.

In a statement, Jonathan Berger, CEO of the Kitchen, said Aleph's lab-grown steaks are set to hit the market in two years.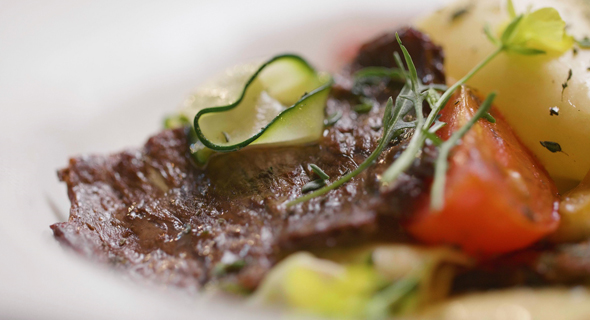 Aleph Farms' lab-grown steak. Photo: PR