MusicTech
Hey Shiri, Play me a Hebrew Song
Israeli singer-songwriter Ariel Horowitz spoke Monday at Calcalist's conference on music and technology in Tel Aviv
Radio stations are not the best way to maintain the Israeli public's interest in Hebrew-language music, Israeli singer-songwriter Ariel Horowitz said Monday at Calcalist's conference on music and technology, which was held in Tel Aviv. Rather, the more efficient way to keep the population listening to local songs, is by creating a streaming service solely for this purpose, he explained.

For daily updates, subscribe to our newsletter by clicking here.

Horowitz's app Shiri, launched in February in collaboration with the National Library of Israel and the country's Culture and Sport Ministry does just that. The app is free to use, and streams Hebrew music from classics to modern-day artists. Based on the user's choice of three favorite artists, the app chooses similar songs to play randomly.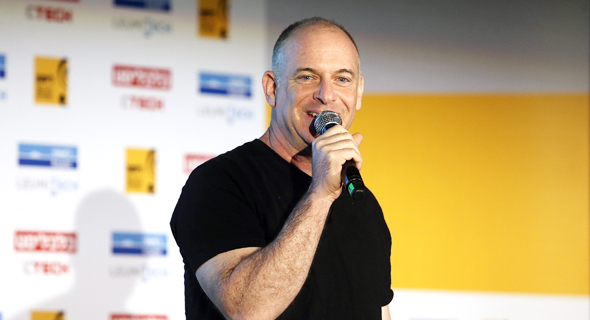 Ariel Horowitz at Calcalist's music and technology conference. Photo: Orel Cohen

Radio stations only maintain a database made up of about 5,000 songs, Horowitz said. Shiri, on the other hand, has approximately 40,000 songs.

On Shiri, 42% of what people want to listen to are songs by older artists or from previous decades, Horowitz said.

Shiri is a popular Hebrew name for girls which literally translates to "my song.", The app currently stands at more than 100,000 downloads.