Pending Indictments Prevents Defense Minister Netanyahu From Approving Bezeq-Searchlight Deal
A landline monopoly in Israel, Bezeq's acquisition requires the approval of Israel's minister of communication and minister of defense—the latter position currently held by prime minister Netanyahu, who is facing an indictment in a bribery case related to Bezeq
The legal troubles plaguing Israel's Prime Minister Benjamin Netanyahu could prove problematic to the pending acquisition deal of Israeli telecommunication company Bezeq. Private equity firm Searchlight Capital Partners' most recent offer for Bezeq still requires approval from the bondholders of Bezeq's controlling shareholders, but once past that hurdle, Searchlight will require the approval of Israel's minister of communication and minister of defense—the latter position currently held by prime minister Netanyahu. This is because Bezeq, Israel's largest telecom company, is defined as a landline monopoly.

Netanyahu has been barred by Israel's attorney general Avichai Mandelblit from any dealings related to Bezeq due to an ongoing legal investigation, after an Israel Securities Authority investigation into violations performed during Bezeq's 2015 acquisition of satellite broadcaster "Yes" spun into Case 4,000. At the heart of that case is an investigation into whether Netanyahu assisted Bezeq with regulatory matters in exchange for positive coverage of him and his wife Sara on Walla, a popular Israeli news site owned by the company. In late February, Mandelblit announced that he would indict Netanyahu on bribery, fraud, and breach of trust, pending a hearing.

Israel's recently held election awarded Netanyahu with his fifth term as prime minister, but still-ongoing coalition negotiations could see several other people take hold of the defense ministry, removing any conflict of interest. If Netanyahu keeps the office, however, the responsibility for the decision will be put into the hands of the ministry's director general, Maj. Gen. (ret.) Udi Adam.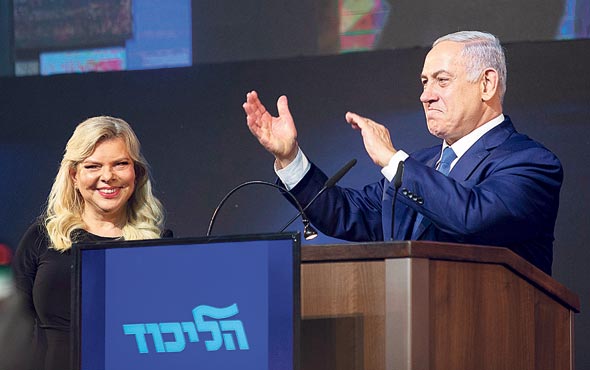 Benjamin Netanyahu and wife Sara. Photo: Tomerico