Israel's Top Cannabis Companies Lost a Combined $307 Million on TASE
Over the last three months, the combined market capitalization of Israel's eight leading medical cannabis companies dropped to $475 million
Israel's eight leading public medical cannabis companies lost a combined NIS 1.1 billion ($307 million) of their market capitalization on the Tel Aviv Stock Exchange over the past three months, bringing their combined market cap to NIS 1.7 billion ($475 million).

For daily updates, subscribe to our newsletter by clicking here.

The largest slide was of InterCure Ltd., chaired by former Israeli Prime Minister Ehud Barak, which lost 34.3% of its market cap, NIS 438.4 million ($122.6 million), after peaking at NIS 1.27 billion ($355 million) in March. The company's market cap at Sunday's trading close was NIS 837.6 million ($234.3 million). Barak, who has company options worth 3.68%, lost NIS 16.3 million ($4.56 million) on paper.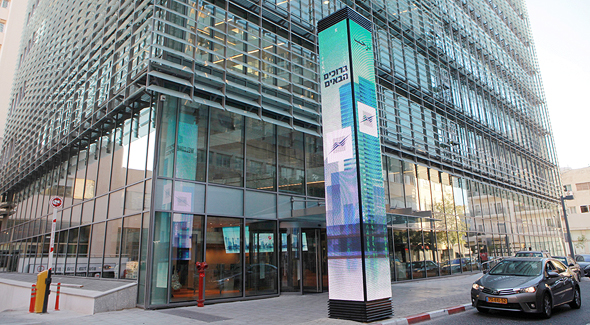 The Tel Aviv Stock Exchange. Photo: Orel Cohen

Together Pharma Ltd., chaired by former Israel Police chief Yohanan Danino, dropped from its February peak of NIS 350.2 million ($97.9 million) to a market cap of NIS 220.2 million ($61.6 million) on Sunday close. Danino, who holds a 1.45% stake in the company and options worth 2.89%, lost NIS 5.6 million ($1.57 million) on paper.

Former Israeli prime minister Ehud Olmert, who is an advisor to and an investor in Univo Pharmaceuticals Ltd., lost NIS 1.4 million ($390,000) on paper from his options worth 3.7%, after Univo dropped from NIS 159.2 million ($44.5 million) to NIS 110.9 million ($31 million) within a month.

Cannabis insurance company Cannasure Insurance Services LLC dropped from NIS 161.1 million ($45 million) at its peak to NIS 98.6 million ($27.6 million). Herodium Investments Ltd., which on Sunday received approval for its merger with cannabis outfit Panaxia Pharmaceutical Industries Ltd., lost 62.4% since its February peak, falling from a market cap of NIS 181.5 million ($50.8 million) to NIS 70.2 million ($19.6). Intelicanna Ltd. dropped from NIS 370.8 million ($103.7 million) to NIS 175.2 million ($49 million).