NFX Raises Second, $275 Million Fund
NFX's first fund, closed with commitments of $175 million in October 2017, has yet to see an exit but some of its more mature startups already raised hundreds of millions of dollars
Silicon Valley-based venture capital firm NFX Guild has raised $275 million in commitments for its second fund. NFX's first fund, closed with commitments of $175 million in October 2017, has yet to see an exit but some of its more mature startups have raised hundreds of millions of dollars.

For daily updates, subscribe to our newsletter by clicking here.

The firm's partners don't draw salaries but rather depend on its success, NFX founding and managing partner Gigi Levy-Weiss said in a recent interview with Calcalist.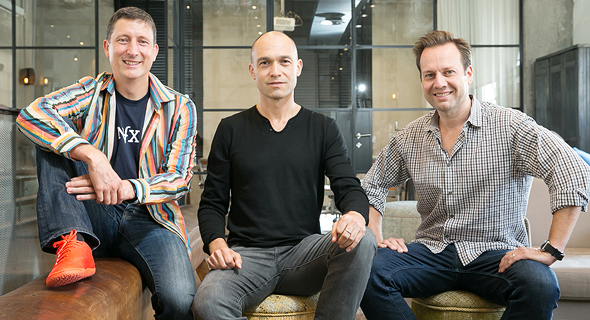 James Currier, Pete Flint, Gigi Levy-Weiss. Photo: Orel Cohen

NFX invests mostly in seed companies, and occasionally in series A-stage companies. "During our first fund we monitored our strategy and identified that early stage investments create the most value for investors, so we are raising a more substantial fund," Levy-Weiss said.

A third of the first fund's portfolio companies, which number around 35, were Israeli companies, a ratio that will probably be maintained for the second fund.

"We work tightly with our portfolio companies, and will continue to do so," Levy-Weiss said. "For Israeli companies, we are a bridge to Silicon Valley. NFX's two American partners are available to all Israeli companies, to open doors for them."

The firm's two other founding and managing partners are James Currier, a four-time startup founder and long-term investor, and Pete Flint, co-founder of real estate listing company Trulia Inc. and travel website lastminute.com.

NFX invests equally in B2B and B2C companies across many industries—including fintech, bioinformatics, real estate-related tech, games, and more—but focus on Israeli and Silicon Valley startups, Levy-Weiss said.