The Startup Nation Wanted to Develop a Mobile App to Help the Elderly, but Failed
Israel's Ministry for Social Equality had spent over $71,000 on a simple mobile app for volunteers looking to assist the elderly, which never came to fruition due to security concerns
Israel's Ministry for Social Equality had spent nearly NIS 279,000 (approximately $71,500) on a volunteering app, which never came to fruition due to security and privacy concerns. A consulting company hired by the ministry found that the app, designed to facilitate assistance to senior citizens, could jeopardize the safety of the very population it aimed to help, causing the ministry to back off the project.

For daily updates, subscribe to our newsletter by clicking here.

The app dates back to 2014, when the ministry was still called the Ministry for Senior Citizens, as an initiative by presiding minister, the late Uri Orbach. The app was intended to connect people with good intentions and some free time with senior citizens in need of assistance in real time, like getting groceries or walking a dog, one person from the ministry told Calcalist on condition of anonymity.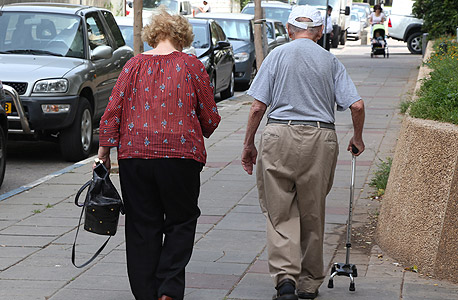 Elderly people in Israel (illustration). Photo: Shaul Golan

Despite a generous approved budget of NIS 250,683 (approximately $64,000), the app's launch was repeatedly delayed until the project was canceled per the recommendation of an outside consulting firm due to information security concerns, the person from the ministry said. The firm found significant and complex issues that would jeopardize users and require further public spending to fix, the person added.

A ministry report for the first quarter of 2017 named the consulting company as Tel Aviv-based Orantech Management Systems Ltd. stating it was paid NIS 28,760 (approximately $7,500) for its services.

Developing a simple mobile app can be achieved in a matter of weeks, even back in 2014, Israeli front-end developer Ran Bar-Zik said in an interview with Calcalist Monday. That a government agency would waste so many resources, efforts, and energy for three years is an embarrassment, he added. "A quarter of a million shekels is the equivalent of six months' pay for a senior developer," Bar-Zik said. Six months is enough time for startups and development centers to get a finished product, he added. "Some money may go to waste on proof-of-concept for products that do not pan out, but you don't spend so much money on proofs-of-concept," he said.

The consultant's recommendations raised significant concern as to the safety of the senior citizens who were meant to benefit from the app, forcing the ministry to put a halt to the project, the ministry stated in response to Calcalist's request for comment. As of 2014, the ministry paid NIS 250,683 to Bezeq OnLine Ltd.— a subsidiary of Israel's largest telecom Bezeq, which is focused on setting up and operating call centers—for the development of the app, according to the statement. The ministry also stated it was using the accumulated knowledge and development efforts for a similar project to encourage volunteering for the benefit of elderly citizens.