TASE IPO Vision Leads CEO to Clash With Regulator
TASE CEO Ittai Ben-Zeev wants to offer shares in the exchange exclusively to the general public, but the Israel Securities Authority has not approved the model
The upcoming public offering of the Tel Aviv Stock Exchange is creating a conflict between CEO Ittai Ben-Zeev and the Israel Securities Authority (ISA).

For daily updates, subscribe to our newsletter by clicking here.

On Thursday, following a six-month delay, the exchange's board of directors approved the submission of a preliminary prospectus to the ISA. Current estimates for the offering put TASE's expected valuation at NIS 600 million to NIS 650 million (approximately $166 million to $180 million). As it stands, however, the exchange's sale of a third of its shares will progress in a different way than Ben-Zeev originally envisioned.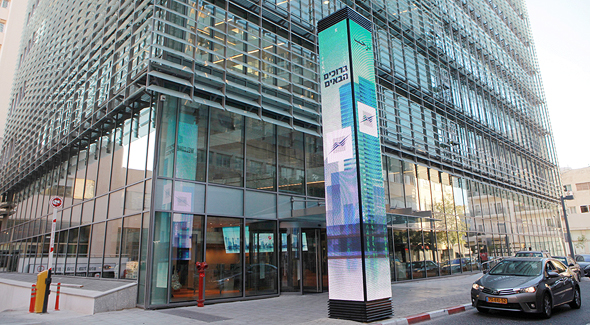 The Tel Aviv Stock Exchange. Photo: Orel Cohen

In September, Ben-Zeev stated that he is interested in offering TASE shares exclusively to the general public. In order to achieve that, Ben-Zeev said he will limit each buyer to only a few thousand shekels-worth of securities. The exchange is interested in increasing public participation in the venture capital market—highlighted by a campaign launched last year intended to promote confidence in stock investments. TASE's management also wanted to ensure that the public will not lose out the way it sometimes does when institutional investors, who commit to their stock acquisition prior to the start of trading, sink the stock by selling for a quick gain immediately after the IPO.

However, current ISA regulations allow only two types of IPOs, neither of which align with Ben-Zeev's plans. The first type is an IPO that sees 70% of the offered stock extended only to institutional investors before the rest is offered both to the general public and to institutional investors. The second type skips the institutional stage, but forbids setting a cap for investment, meaning institutional investors can grab the lion's share should they so choose.

Ben-Zeev's original vision, therefore, would require an amendment to the ISA regulations—one the exchange is saying the ISA is failing to approve. According to the ISA, it cannot amend the regulations due to the current parliamentary chaos caused by the upcoming national re-elections. The ISA is, however, contemplating the possibility of creating a new model that will ensure that institutional investors are barred from at least 30% of the securities offered to the general public.

The current stumbling block is just one of several Ben-Zeev has faced since setting TASE's public offering in motion. Last year, the ISA delayed the sale of 71.7% of the exchange to five international funds, conditioning the deal on approving each fund separately. The planned offering also led to a disagreement with the exchange's employees, who demanded improved conditions such as a 10-year immunity from layoffs and even halted trade in a strike. The disagreements also delayed the offering's date.