Strategies, Opportunities, and Challenges the Israeli Tech Industry Faces
CTech's upcoming event, It Tech Two To Tango, will bring together entrepreneurs and venture capitalists who wish to hear what investors are looking for
On Tuesday June 18, in collaboration with Labs Israel, a co-working office space under the Teddy Sagi Group, CTech by Calcalist will host renowned investors and entrepreneurs at an event titled: It Tech Two To Tango. The event will bring together Israel's most prominent high tech investors. ‍Representatives from leading venture capital firms will discuss the challenges facing the high tech industry, the recent wave of Israeli IPOs, strategic fields of investment, and investment strategies for the coming years.

For daily updates, subscribe to our newsletter by clicking here.

In order to strengthen the dialogue surrounding the main issues to be discussed at the event, CTech has sent out several questions to some of the conference participants in advance. According to some of their responses, it seems that the Israeli high tech industry is very diverse in its approach to some of the burning issues in the industry.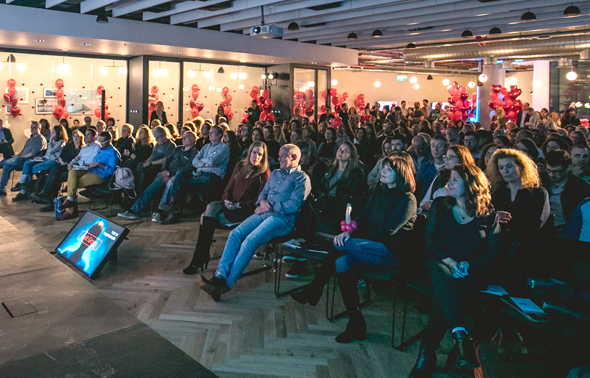 Conference at Labs Israel. Photo: Tomer Poltin

For example, artificial intelligence (AI) was ranked both the most critical sector for investment over the next five years, as well as the most overhyped sector today.

"AI will remain a critical sector in the coming 5 years, as it touches almost every aspect of our lives, from healthcare to transportation to industry and more," said Rutie Adar, the director of Samsung's strategy and innovation center in Israel. "However, we will see progression into new domains such as XAI - eXplainable AI, to enable understanding of the black box AI is today, semantic understanding of any text enabling real human-like conversations, and decision supporting expert systems in almost every domain – physicians, lawyers, psychologists, and more".

Cornerstone Venture Partners' Hanan Brand on the other hand, thinks that AI is the most overhyped sector today. "Not because it's not going to change our lives, it will, and eventually most companies around us will implement AI in their solutions. The problem is too many companies in Israel claim they have AI, when in fact it's only in their roadmap or they just included it because of the hype. AI, like cloud computing in the past, will become a commodity, and only a handful of companies will have meaningful innovative edge in the artificial intelligence sector."

According to Yair Shoham, the manager of Intel Capital Israel, "there isn't one critical sector but rather companies that their technology will be applied to different sectors and will disrupt it. I believe that technologies that can leverage data across the entire stack and extract the vast potential value that exists within it will be critical for investment. For example, I believe that a specific sector that could benefit greatly from leveraging data-related technologies is "food-tech" and we can witness some of it in the immensely successful work of Beyond Meat Inc."

When asked about the unique advantages of the Israeli venture capital industry over the global industry, Arik Kleinstein, the founding managing partner at Glilot Capital Partners, thinks that "a full scale ecosystem (entrepreneurs, investors, multinational companies and academics) condensed in a small geographical area and supported by a highly efficient military screening system which constantly feeds this echo system with new top quality talent" is one of the country's biggest advantages. "Such an ecosystem can be found only in Israel," he said.

On that same matter, Shoham thinks that "being part of a bigger ecosystem which is very supportive of innovation and scaling ideas into product and businesses, as well as having access to a vast number of quality startups working in multiple domains" is where Israel has the leg-up. "Having access to a mature, educated, highly motivated, driven, and committed workforce coming out of the Israeli military and its multi-faceted technology-based units" is a big factor, he said.

Brand said that the county's "ability to get fast feedback from the market, from potential customers, and from the 350+ multinational companies who have representation and tech scouts in Israel" is where the country stands out. "It's much easier to get a meeting with a senior representative of a large company in Israel than in the U.S. or anywhere else in the world, and that's a big advantage for startups who seek validation and partnership in the early stages," he added.

According to Kleinstein, other than the well-documented difficulty of recruiting tech talent, the most serious challenge in Israeli tech is inefficiency. "The increasing amounts of venture capital available to the startup community over the last few years are a blessing, but also create an increasing risk of companies that are becoming less and less inefficient. The lack of managerial experience especially when it comes to scaling expensive sales operations can lead to companies that are growing but are providing less than expected long term profitability," Kleinstein said.

Adar thinks that Israel's tech problem is that it is very distant from its target markets. "Although today there are lower barriers to conduct global marketing campaigns with the increase of frequent low cost flights and video conferencing options like zoom, there still remains no replacement to face to face meetings, at all stages of the startup. Creating these frequent encounters at the seed stage with a limited budget and limited time to spend in airports may be a challenge," she said.

From Shoham's perspective, growing competition from multiple other countries is the most serious challenge. "We are still far behind on the go-to-market capabilities and access compared to the startups in Silicon Valley. Increased valuations may generate a disinterest in Israeli opportunities compared to opportunities in Europe and the U.S. Also, and somewhat related to the shortage of talent, Israel still does not have enough C-level executives to successfully build large multi-national companies, and the need to recruit those outside of Israel is a risk factor that often does not pay off," Shoham said.

At the event, CTech and Labs will also host Adam R. Fisher, partner at Bessemer Venture Partners, Michael Eisenberg, the managing partner at Aleph, Daniel Cohen, general partner at Viola Ventures, Aaron Mankovski, managing general partner at Pitango, Sivan Shamri Dahan, the co-founder of Qumra Capital, Aya Peterburg, managing partner at S Capital, Jonathan Medved, the CEO of OurCrowd, Amir Lahat, partner at Olive Tree, Sigalit Klimovsky, partner at Grove Ventures, and Ofer Schreiber, partner at YL Ventures.