Interview
Your Zip Code Is a Better Indicator of Lifespan Than Genetics, Says Stanford Dean of Medicine
In a recent interview with Calcalist, Lloyd B. Minor said that healthcare systems should be asking themselves not how to cure people but how to help them be healthy
Environmental, social, and behavioral factors are 70% responsible for a person's health, according to Lloyd B. Minor, the dean of the school of medicine at Stanford University. For Americans, zip codes are a better indicator of their lifespan than their genetic makeup, he said in a recent interview with Calcalist.
For daily updates, subscribe to our newsletter by clicking here.
Minor believes that healthcare systems should be asking themselves not how to cure people but how to help them be healthy. Most of the budget goes into treating heart conditions, diabetes, high blood pressure, and high cholesterol levels—patients on a continuous health deterioration process that keep going in and out of hospitals, he explained. This means a huge chunk of available resources is going to a very small part of the population, he said.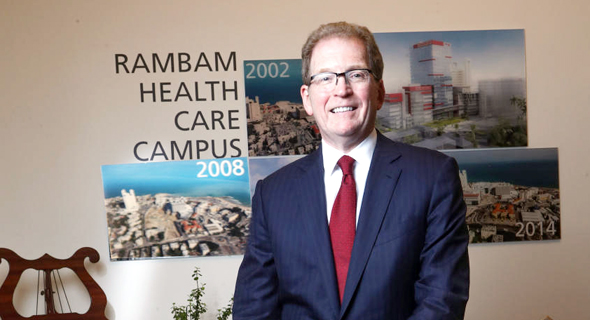 Lloyd B. Minor. Photo: Gil Nehushtan

Stanford envisions a future of "precision health," in which modern medicine shifts to focus on predicting and preventing disease, as opposed to the current state where healthcare systems focus on treating conditions after they have already appeared, Minor explained.

This also has to do with the way people view their health, Minor said. While people accept that they are responsible for their finances and education, healthcare is perceived as something much more passive, he added. "If you get sick, you go to the doctor, take a pill and get better. But really, the determinant of how you are going to do long-term is in your hands, not the health care system's hands."

Such a shift in people's perception can be made possible via technological innovation, Minor said. Technology has already changed the way people shop, contract services, and consume information, and that revolution will soon reach the healthcare system, he added. New devices and technologies will enable people to monitor their health in a completely different way, he said.

Tech giants such as Apple and Google are already seeing health as the new frontier, and their size and know how when it comes to engaging with consumers, will help them land a place at the forefront of innovation, Minor said, adding that Stanford is already collaborating with the two on various studies.

If your bank said you could only use your bank card at its own ATM machines, you would not do business with that bank, Minor said. You would go to a bank that said that, for a small fee, you can use your ATM card anywhere, he said. When it comes to healthcare, there are no such incentives, so there is no public demand to get your data out there, to share it with other companies in order to reap the benefits, he said.