Interview
General Motors Competes With Google, Facebook Over Israeli Tech Workers, GM Exec Says
Gil Golan, the executive director of GM's Advanced Technology Center in Israel, believes workers are drawn to where they can make a bigger impact
When General Motors (GM) set up its research and development center in Israel in 2008, no one seemed to notice the connection between tech and the automotive industry, Gil Golan, the director of GM's Advanced Technology Center in Israel, said in a recent interview with Calcallist. "Now, as we compete against Facebook, Google, and Apple over computer science and electrical engineering graduates, they are beginning to take it to heart," he said.
For daily updates, subscribe to our newsletter by clicking here.
In a little over a decade, GM's R&D center grew from a 30-people team to 400 employees, taking up two office buildings in Herzliya, a town in the Tel Aviv area. GM intends to hire about 100 additional people in the country in upcoming years, according to Golan.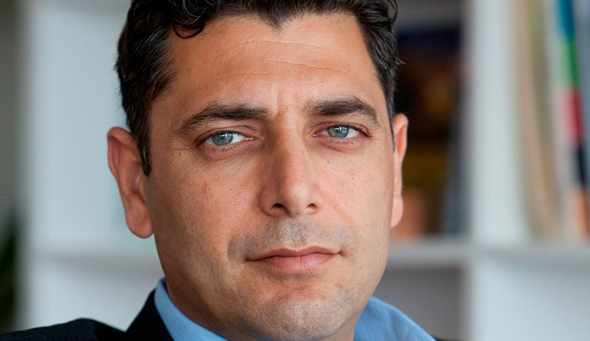 Gil Golan, the director of GM's Israel R&D center. Photo: Shauli Lendner

In recent years, Israel has been plagued by an ongoing talent crunch and criticism of employee poaching by large companies has been voiced more than once.

"We develop algorithms for autonomous vehicles that emulate the activity of the human brain," Golan said. "Someone looking to leave a mark on the world and do something meaningful can see it is way more interesting than developing an algorithm that could tell whether a user should get white or red sneakers," he added.

While GM is the automaker with the largest center in Israel, other automotive giants have established a presence in the country in recent years. On Tuesday, Bill Ford, executive chairman of American carmaker Ford Motor Company, spoke at the Ecomotion 2019 smart mobility show in Tel Aviv and is scheduled to speak at a Ford event in the city on Wednesday. In May, Calcalist reported, citing one person familiar with the matter who spoke on condition of anonymity, that Ford intends to launch a Tel Aviv innovation center. On Monday, automakers Renault and Nissan opened a joint innovation lab in Tel Aviv. Both Stuttgart-based automaker Daimler AG and Volkswagen Group have Tel Aviv centers, employing 15 and 10 people, respectively.

Traveling through Herzliya, GM's electric vehicle, the Chevrolet Bolt, is not a rare site. "We operate dozens of experimental vehicles in Israel," Golan said. According to Golan, GM is in direct contact with the local autotech industry and is constantly scouting for relevant technologies. The company has made quite a few investments and acquisitions in Israel that were not made public, he added.

When it comes to a completely autonomous vehicle, Golan says the company is playing it safe. As a first step GM intends to launch fully autonomous robo-taxis, but only once the technology conforms with the company's safety standards, he said. "When it comes to safety, GM has a huge advantage over younger companies," he said. "We do not rush new technologies into the market before they have been tested repeatedly."