Disappointing Exit for Machine Learning Company ParallelM
ParallelM's Israeli founders have seen several hefty exits between them, including the sale of Anobit to Apple and Libit Signal Processing to Texas Instruments
Sunnyvale, California-headquartered ParallelM Inc, also known as Parallel Machines, has been acquired by predictive modeling company DataRobot Inc., according to one person familiar with the matter who spoke to Calcalist on condition of anonymity. The sum of the acquisition, which stood at several tens of millions of dollars, did not yield a return on investment for the company's shareholders, the person said. Investors in the company include Pitango Venture Capital, Viola Ventures, and North83.

For daily updates, subscribe to our newsletter by clicking here.

ParallelM CEO Sivan Metzger confirmed the acquisition to Calcalist but declined to comment on the sum.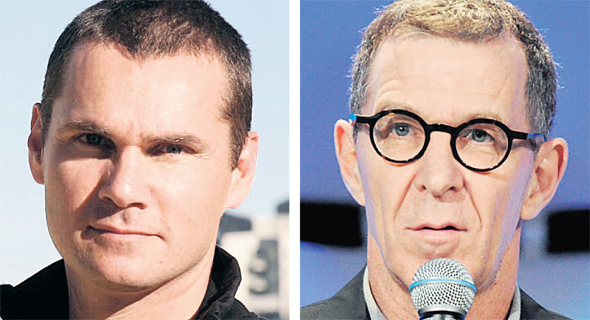 ParallelM co-founder and CEO Sivan Metzger (left), co-founder Ehud Weinstein. Photo: PR

Founded in 2014, ParallelM develops software for automating the deployment, scaling, and ongoing management of machine learning services in the production process. Two of the company's co-founders, Ofir Shalvi and Ehud (Udi) Weinstein, have been responsible for some of Israel's most impressive exits. Together and separately, the two were involved in the 1999 sale of Libit Signal Processing to Texas Instruments for $365 million; the 2006 sale of Passave to PMC-Sierra for $300 million; the sale of Anobit Technologies Ltd., for around $400 million to Apple in 2012; and the sale of Cyvera to Palo Alto Networks for around $200 million in 2014.

After five years of operations that included management changes and several business pivots, ParallelM has seemingly failed to realize the potential hoped for by its founders and investors.

Boston-headquartered DataRobot has around 700 employees compared to ParallelM's 20. As part of the merger, DataRobot will establish a new business unit called MLOps and Governance, to be headed by Metzger and the rest of ParallelM's management team. DataRobot will also expand its offices in California and Israel.

ParallelM is the next stage of evolution for DataRobot's systems, Metzger told Calcalist in an interview, adding that they expect the merger to boost ParallelM's client count.