Bank Leumi President and CEO to Retire After Seven Years
Rakefet Russak-Aminoach is in talks to join Israeli cybersecurity think tank and startup foundry Team8 LLC., according to source
Rakefet Russak-Aminoach, the president and CEO of Israel's Bank Leumi, is retiring after seven years in the position and 15 years at the organization, according to a Sunday announcement the bank filed with the Tel Aviv Stock Exchange. Russak-Aminoach will be stepping down in a few months after Leumi's board will choose her replacement. The board is set to choose a new chairman on Sunday, who will then have to appoint a new CEO.
For daily updates, subscribe to our newsletter by clicking here.
Russak-Aminoach is in talks to join Israeli cybersecurity think tank and startup foundry Team8 LLC., according to one person familiar with the matter who spoke to Calcalist on condition of anonymity. Based in Tel Aviv and New York, Team8 has a strong link to Israeli NSA equivalent Unit 8200 and is headed by Nadav Zafrir, the unit's former chief. Israeli serial entrepreneur and venture capitalist Yuval Shachar serves as Team8's executive chairman.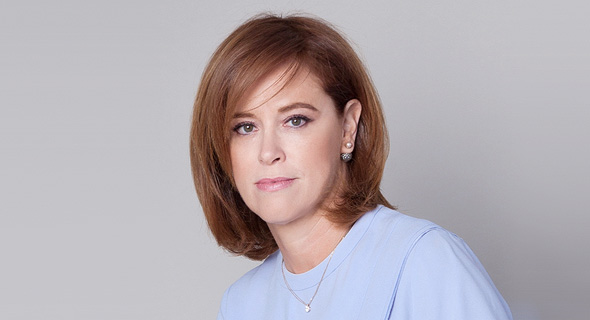 Rakefet Russak-Aminoach. Photo: Ron Kadmi
Leumi is one of Israel's two largest banks, the other being Bank Hapoalim. In April, Poalim's CEO Arik Pinto announced his retirement after three and a half years. His replacement has yet to be chosen. Earlier this month, Lilach Asher-Topilsky, the CEO of Israel Discount Bank Ltd., also announced she will be stepping down, meaning three of Israel's largest banks will soon be facing a regime change.
Russak-Aminoach has overseen several upheavals during her tenure. She has led an aggressive reorganization at the bank, which saw jobs cut and branches closed alongside the establishment of a digital bank under Leumi. She reached a $400 million settlement with U.S. authorities regarding a tax evasion investigation that is still ongoing against Poalim and Israel-based bank Mizrahi-Tefahot. She has also led the sale of the bank's credit card issuer subsidiary Leumi Card to New York-headquartered private equity firm Warburg Pincus LLC in 2018 for $680 million.
Meir Orbach and Hagar Ravet assisted with this article.