Interview
Fosun Whetted Our Appetite, Says Alma Lasers CEO
Fosun Pharma CEO Yifang Wu and Alma Lasers CEO Lior Dayan gave Calcalist their first joint interview since the Chinese conglomerate acquired the Israeli medical laser company in 2013
One of the Most important things Fosun International Ltd. did when it acquired Israel-based aesthetic laser company Alma Lasers was to whet the company's appetite and infuse its leadership with ambition and confidence, Alma CEO Lior Dayan said in a recent interview with Calcalist.

For daily updates, subscribe to our newsletter by clicking here.

Shanghai-based conglomerate Fosun has made several widely reported acquisitions attempts in Israel in recent years. Some were unsuccessful, such as Fosun's 2015 bid to acquire a 52% stake in Israeli insurer Phoenix Holdings. Among Fosun's successes were the 2016, $77 million acquisition of Israel-based Dead Sea cosmetics manufacturer Ahava, and more importantly, the deal that first brought the conglomerate to the Israeli market—the 2013, $240 million acquisition of Alma.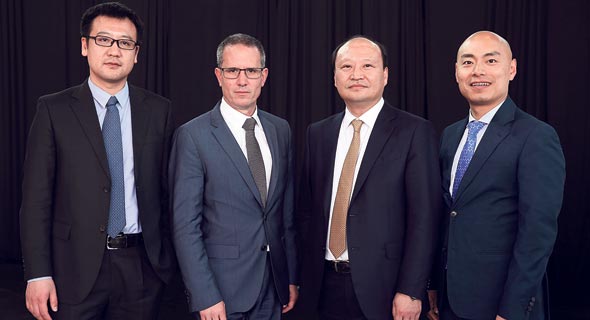 Fosun Pharma VP Yi Liu (left), Alma CEO Lior Daya, Fosun Pharma CEO Yifang Wu, Fosun executive Wong Calvin. Photo: Elad Gershgoren

Fosun acquired Alma via Sisram Medical, an Israeli holding company it set up for the deal. In 2017, Sisram listed on the Hong Kong Stock Exchange according to a $490 million valuation, twice the amount Fosun paid, raising $112 million in its initial public offering. Since then, the company dropped to a $225 million valuation.

But at Alma's Israeli offices spirits aren't dampened. The company, which is now commemorating its 20th anniversary, is celebrating the fact that Alma is one of the top five global companies in the industry, number one in China, and with an annual double-digit growth.

A delegation of high ranking Fosun officials headed by Fosun Pharma CEO Yifang Wu arrived in Israel recently to inaugurate a new Alma -Sisram campus in Caesarea, an Israeli coastal resort town. Wu and Dayan, the CEO of both Alma and Sisram, set down with Calcalist for a joint interview, the first since the 2013 acquisition, to outline the company's strategy and future plans.

Golan Hazani: Which of the objectives that you had set forth to achieve with the acquisition have been realized so far?

Wu: since acquiring Alma Lasers, growth was a significant component. The company showcases healthy organic growth. The quality of the company is one of the best in the global industry and listing it on the main board of the Hong Kong exchange is an enormous step for the future success of Elma and Sisram.

H: why was it important for you to go public?

W: listing provides direct access to financial markets and to investors and is a way to raise resources for future development. Company transparency is also improved. For us, Sisram and Alma are our launching pad to the medical devices sector, and as a public company, there is better access to professional and business talent. The company gains global exposure that will also enable non-organic exposure via mergers and acquisitions.

Dayan: the listing was not just intended to gain additional resources. Fosun International and Fosun Pharma are public transparent companies. The industry has a lot of mergers, pharma companies that are acquiring medtech companies. Fosun did the opposite, it bought Alma and then floated it, to provide it with the resources needed for independence and future development.

H: in 2014 Fosun said it would acquire additional companies via Alma, but didn't.

Fosun Pharma vice president Yi Liu: Alma's organic growth rate is good, but we are also looking for growth engines via mergers and acquisitions. We made the first such deal recently when we acquired Alma's Israeli distributor Nova Medical, and we're working on other ventures. At Sisram's level it is very important work, since, as CEO Wu said, we don't consider Alma and Sisram just medtech companies but also a gateway to the industry.

D: just after the acquisition we started looking at Sisram as a holding company in the medtech industry. In the past six months, we contracted outside entities to perform a deep analysis of our development plans for both Sisram and Alma.

H: Fosun bought 12 hospitals in China, a deal that could leverage the synergy between it and Alma.

D: our operations in China are very extensive, and we target doctors, especially plastic surgeons, dermatologists, and gynecologists, and Fosun-owned hospitals are included in that. We treat hospitals as we would any other customer, regardless of familial connections. We also have an initiative to establish aesthetic units at Fosun's hospitals as a separate branch and an independent profit and loss center.

H: and what about growth in the rest of the world?

W: Fosun Pharma, and especially Fosun International, have a strong global presence. Therefore, when Sisram and Alma market to global markets they can leverage Fosun's international resources, just as Fosun Pharma does.

D: Alma and Sisram are very stable financially. Both before and after the IPO we had a positive cash flow as well as a cash surplus. But when we're considering, for example, a large acquisition that will take up a lot of our free cash, we have strong economic backing. A regular company that wants to grow needs to approach external entities for assistance, while I can turn to talented people in-house.

Y: the most important thing is the DNA of the acquired company. We appreciate Israeli innovation and provide all our portfolio companies with a comfortable development environment, helpful resources, and cooperation. We hold human capital at the utmost importance.

H: Alma recently published its financial results for the full fiscal year 2018. The company saw its revenues increase by 12% year over year to $154 million, and an increase in gross and net profit. Double digit growth of 11%-13% characterized the company's three product segments, surgical, medical-aesthetical, and beauty. But even those results did not improve stock performance for Sisram.

W: we don't operate based on stock valuation, but to improve the company's development long-term for the good of our shareholders. We are very proud of Alma's management. We built a very healthy company culture, and the values we share are superb—people before everything. The entire system, infrastructure, management, and daily operations are becoming whole and healthy, and that's great. Under Lior's leadership we're seeing a significant change.

H: how much freedom does Alma's Israeli CEO have under the large Chinese parent?

D: when Fosun acquired Alma, the company was already a successful organization in terms of innovation, development, and global sales. The timing of the deal was interesting since it took place exactly when Alma needed to start thinking bigger. We've reached a point where we needed to leverage the company's resources—physical assets, technological, developmental, and human talent. One of the Most important things Fosun did was to whet our appetite and infuse us with ambition and a belief in ourselves, that we can do more, grow bigger, think bigger.

D: often I read about Israeli companies that want to take it to the next stage and are looking for someone to take them there. That is not the case with us. Fosun said, we want you to grow, and we'll help you do it, you need to come up with the ideas and initiatives. We also needed time to reorganize, which Fosun afforded us. Fosun is a young company—its management, its chairman, the fact that it's listed on both Hong Kong and Shenzhen and operates in 80 countries—all this makes Fosun transparent in China as well. That's the new business world and we consider it an added bonus.

Y: Fosun Pharma has four businesses, pharmaceuticals, medtech, a healthcare unit that includes our hospitals, and a distribution unit in China. Alma is the main company of our medtech business, which numbers eight companies.

H: in 2017 the Chinese government put a stop to investments outside the country, and suddenly we saw less Chinese players in Israel, and even those that arrived here said it was difficult to get money out of China. Is everything open again?

W: at least from my point of view, I don't think the government stopped anything.