PoV
Planning a Trip to Shanghai? Better Pack Your Toothbrush
Last week, stringent new waste and recycling rules took effect in China's largest city, perhaps signaling the start of a change for the world's second-largest waste producing country
Every hotel owner, from Beijing to Tel Aviv, knows that there are some amenities Chinese tourists expect while on vacation: congee and vegetables for breakfast, a kettle and tea in the room, and a toiletry bag containing a toothbrush, a comb, and a shoe brush. New waste and recycling rules, however, mean that as of last week, all hotels in Shanghai, China's largest city, stopped providing their guests with a complimentary toiletry bag. Insistent guests will still be able to avail themselves of the service, but it will not be provided to rooms automatically.

For daily updates, subscribe to our newsletter by clicking here.

"Strictest in history," is how Chinese internet users called Shanghai's new regulation. In addition to limiting hotel toiletries, the regulation forbids food delivery companies from providing disposable tableware and chopsticks to customers unless specifically asked. They also set fines and penalties on citizens and non-Chinese visitors who fail to separate their waste per the new regulations.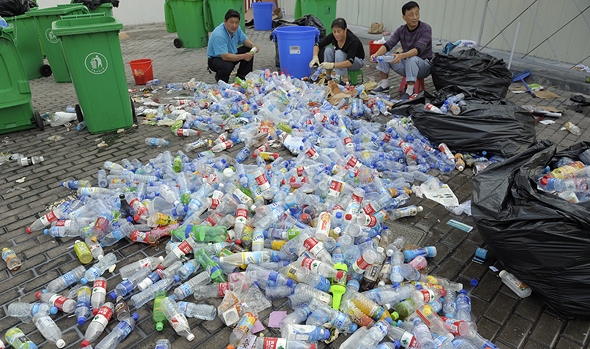 Plastic waste in Shanghai. Photo: Shutterstock

As a foreigner living in China, it is sometimes hard not to get frustrated when seeing the wasteful use of plastic so commonplace in the country. The most obvious offenders are neighborhood produce sellers, who wrap fruit and vegetables in layers upon layers of clingfilm and pack them in plastic boxes, sometimes on an individual basis. The more pricey the produce, the more wrappings—which convey hygiene—are used.

Participants in China's national sport, online shopping, will also receive each item, even products like shampoo, wrapped up in layers of plastic and cardboard like a birthday present. A law mandating payment for plastic bags has been in effect in China for a decade, but their price is so low no one thinks twice about using them.

According to World Bank data, in 2012, China's cities produced 520 thousand tonnes of waste a day, making the country the second-largest waste producer, after the U.S. By 2025, however, China is forecasted to generate twice as much waste as the U.S.

The recycling situation in China is not much better. While in cities like Beijing there are plenty of separate recycling and non-recycling bins, no one really knows what waste goes in which bin. A survey conducted last year among 3,600 families living in China's largest cities revealed that almost 75% did not know how to correctly separate their trash. In reality, most recycling in China is performed by non-licensed garbage collectors, men and women who come at night to collect plastic bottles and packages that can be recycled for money.

Times are changing in China, though, and fast. In recent years the government realised the current situation cannot continue for much longer. The new environmental regulations that came into force on July 1 in Shanghai place the city alongside places such as California, Taiwan, and Japan.

Residents and local businesses must now separate trash into four types: wet-organic, dry, recyclable waste, and hazardous waste (pharmaceuticals, lightbulbs, and batteries, for example). Private citizens that fail to comply can face fines of up to 200 yuan ($29), while businesses could receive fines as high as 500,000 yuan ($72,500). In extreme cases, city authorities are threatening to stop collecting garbage from non-compliant communities or to revoke the license of businesses who break the law.

A previous pilot intended to encourage Shanghai residents to recycle has failed. Authorities are now not taking any chances, bombarding residents with an array of propaganda, including animated films, advertisements, and songs intended to raise awareness. To ensure compliance, bins are no longer placed inside residential buildings, but have been relocated into neighborhood centers. Those centers are open only a few hours a day, between 7:00 and 10:00 a.m. and 5:00 and 8:00 p.m., leading people to complain they just do not have the time to separate their trash.

"I might just take the garbage with me to the office," one commentor wrote.

Another complaint had to do with privacy issues. Volunteers were appointed to oversee the law's implementation in Shanghai's neighborhoods. Most of the time, those are senior citizens with plenty of free time on their hands, which insist on manually going through each bin to ensure proper separation. In more technologically advanced communities, residents are required to throw away their garbage in bags imprinted with their apartment's personal QR code.

Shanghai's residents were surprised to discover that the waste's separation is not intuitive. Wet waste is supposed to be tossed directly into the bin, while dry waste, like disposable tableware, must first be washed; chicken bones, are considered wet-organic, while pork bones and the peel of hard fruits like durian and pineapple are considered dry waste. Questions concerning proper separation are the new hottest trend among China's internet users. Are coffee grinds wet waste? What about cat litter, facial masks, crab shells, or nail polish?

China's tech giants such as Alibaba and Tencent are coming to the rescue with apps that can help users differentiate between the different types of waste. Alibaba's tool even has a feature that lets users upload a picture and receive an identification, bypassing the need to type in product names. One user posted an extremely popular series of pictures that classified her meal leftovers according to the different categories. Another, half-joking, offered a more creative method for differentiating. "If a pig would eat it, it is wet waste," he wrote. "If not, it is dry."

The recently implemented regulation also led to the birth of a new, surprising social media star, a grandmother from Shanghai who is perhaps taking the new laws a little too seriously. "I think about how to separate my trash as I eat," she said in a video that turned viral, later going on to show how she took apart a pig tail so it would constitute as wet waste.

Like with any such sweeping change, entrepreneurial spirits have already started offering services that promise to collect trash, separate it, and deliver it to the neighborhood centers during operating hours.

While Shanghai is the first Chinese city to adopt such stringent regulation, similar initiatives are planned for other cities. The government has set a target of achieving a trash separation program in 46 cities by 2020.

In the meantime, responses in Shanghai proved ambiguous. An investigation by English-speaking newspaper Shanghai Daily, conducted in a city subway station, revealed that residents continue to throw away their trash randomly, including disobeying the ban on throwing paper napkins into the wet-organic bin. Other reports found that garbage trucks are mixing the different kinds of trash.

But the success of Shanghai's new regulation is more than just a local matter. China is the world's most populated country. With 13 million hotel rooms, even if only half are occupied in any given time, it still comes to 6.5 million one-use complementary toiletry bags a day. That's a lot of plastic to stop using.