Israeli Tech Ecosystem Marginalizes Israelis of Non-European Descent, Says NGO Director
Takele Mekonen, the executive director of Tech-Career, a non-governmental organization that operates as a tech training center for Israel's Ethiopian community, believes the key to pulling the community out of poverty is a career in tech
The Israeli tech ecosystem is a bubble marginalizing people of non-European descent, Takele Mekonen, the executive director of Tech-Career, a local non-governmental organization that operates as a tech training center for Israel's Ethiopian community, told Calcalist in an interview Thursday. According to Mekonen, the manner in which people are hired into the local tech sector— favoring friends of friends and alumni of Israeli military elite units, for example— means that only certain types of people employ these lucrative jobs, while minority groups and less affluent populations find it hard to get their foot in the door.

For daily updates, subscribe to our newsletter by clicking here.

Mekonen immigrated to Israel at the age of 16 and spent his military service at the Israeli Air Force's unmanned aerial vehicle (UAV) unit. From there, he moved on to an 11-year career in the Israeli tech sector. At the age of 36, he decided to dedicate his time to serving his community. The highest professional aspiration in Israel today is a career in tech, Mekonen said, explaining the organization's focus on professional training.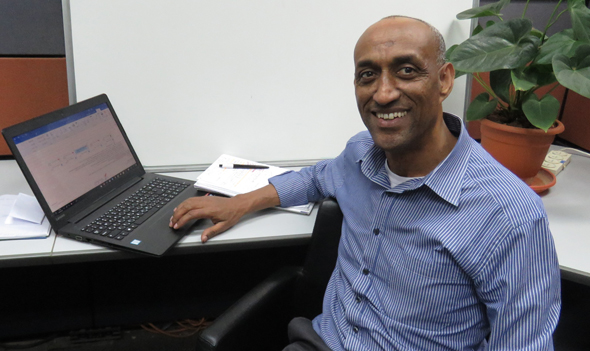 Takele Mekonen, executive director of Tech-Career. Photo: PR

Last week, thousands of members of Israel's Ethiopian community took to the streets blocking major traffic arteries in protest of police brutality against members of the community, systematic discrimination, ingrained racism, and a culture of racial profiling by Israeli police.

What sparked the current wave of protest was the killing of 18-year-old Solomon Tekah, who was fatally shot last week by an off-duty cop. While police contend that the cop was trying to stop a fight and attempted a warning shot that rebounded and hit Tekah in the chest, eyewitnesses assert that the cop aimed his weapon directly at Tekah's chest from 30 meters away. An initial autopsy proved inconclusive.

Israel's Jewish population has a number of ethnic minorities. One such minority is Ethiopian Jews, a community that has long suffered official and unofficial discrimination, from schools refusing to admit its members, through blood donated by members of the community being thrown out without inspection by the country's blood bank, to reports of alleged forced chemical sterilization of female Ethiopians by Israeli medical officials. Though all three issues raised some public outrage at the time, it soon died out.

Data published by the Adva Center, a Tel Aviv-based non-partisan Israeli policy analysis center, shows that the Ethiopian community is also the poorest group of Israeli Jews, with 23% of Ethiopian households defined as poor compared to 13% in the country's general Jewish population. By promoting tech training for Ethiopian community members, Tech-Career hopes to help members ascend into the upper classes of Israeli society.

In 2016, the net monthly income for an Israeli-Ethiopian household was NIS 11,250 (approximately $3,150), according to the Israeli Central Bureau of Statistics, substantially less than the average monthly income for the entire population standing at NIS 15,751 (approximately $4,400) for all households in Israel. Ethiopian couples divorce at a rate almost double that of the country's general population, leading to many households depending on a single income-earner, a woman in most cases.

In Israel, tech employees earn nearly 2.5 times the average wage of non-tech employees, according to a report published by Israel-based Taub Center for Social Policy Studies, which reviewed data from 2013.

Tech-Career provides students with one year of intensive studies in Lod in one of four programs: software, cyber networks, communication networks, and software testing. The students are between the ages of 22 and 30 and undergo rigorous screening by the association, Mekonen said. According to Mekonen, 25% of the costs of about NIS 40,000 (approximately $11,190) per student comes from the state and the rest from donations mainly from American philanthropists.

Tech-Career currently works with some of the largest tech companies operating in Israel, including Intel, Facebook, mobile monetization company IronSource Ltd., and Nasdaq-listed website building company Wix.com Ltd., Mekonen said. The organization's future plans include adding educational programs for young mothers and expanding its pool of partner companies.

Tech-Career was founded in 2002 and has already trained 700 young people for tech careers, but Mekonen believes the organization has greater potential hoping to reach 1,000 graduates a year within five years.