Israel Grinds to a Halt as Country's Ethiopian Community Protests Police Violence
A night of riots resulted in over a hundred cops and many protestors and bystanders injured and 136 protestors detained; damage was caused to private property, police cars, and ambulances
Around 50,000 Israeli commuters were caught in standstill traffic for hours on Tuesday evening as thousands of members of Israel's Ethiopian community took to the streets and major traffic arteries to protest police violence. Echoing similar protests against police bias by black communities in the U.S., many Ethiopians in Israel are claiming systematic discrimination as well as ingrained racism and a culture of profiling of Israeli police when it comes to members of the community.

For daily updates, subscribe to our newsletter by clicking here.

What sparked this wave of protests is the killing of 18-year-old Solomon Tekah, who was fatally shot on Sunday by an off-duty cop. The Tuesday afternoon protests, which began following Tekah's funeral, were planned for several cities in Israel, among them Tel Aviv, Ashdod, and Haifa, but devolved into a night of rioting that ended with 111 cops injured as well as many protestors and bystanders, and 136 protestors detained. Protestors smashed the windows and set fire to private and police cars, a bus, and several ambulances.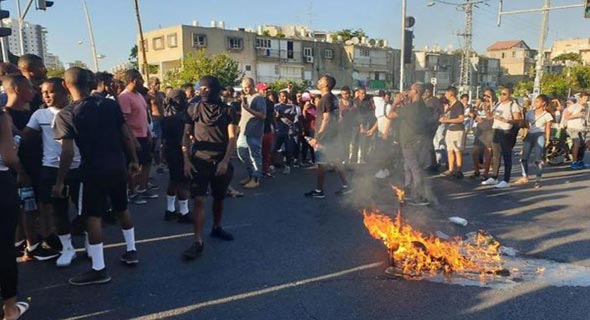 Tuesday's protests. Photo: Avi Mualem

The events surrounding Tekah's shooting are under contention, according to reports by Israeli news outlets. The police contend that the off-duty cop, spending time with family at a Haifa playground, was trying to stop a fight involving Tekah when he was attacked and pelted by rocks. According to this version, the cop attempted a warning shot at the ground when the bullet rebounded and hit Tekah in the chest. Eyewitnesses, however, asserted that the cop was not in physical danger, saying he aimed his weapon directly at Tekah's chest from 30 meters away. An initial autopsy proved inconclusive.

In January, a policeman fatally shot 24-year-old Yehuda Biadga, an Israeli soldier of Ethiopian descent released after six months of military service due to trauma, in Bat Yam, a town near Tel Aviv. Biadga's family called emergency services and reported that he was in distress and waving a knife in their apartment, and later in the streets. One of the two officers dispatched to the scene shot Biadga twice, killing him. The cop said that the young man rushed him with the knife. Police later said the cop followed proper protocol, calling for Biadga to stop before shooting, but Biadga's family called the incident a murder, claiming police bias against Israel's Ethiopian minority was behind the excessive use of violence.

Protestors who spoke with Israeli news outlet Ynet Tuesday told reporters that while earlier protests had been peaceful, there was a grain of undercover and uniformed policemen who were "just waiting for the protests to turn violent" so they could justify a backlash. This time, they said, they figured they might as well justify the stigma already attached to them.

Israeli Prime Minister Benjamin Netanyahu called for quiet Tuesday, telling protestors that he was aware of the injustice against the Ethiopian community but pleading that blocking roads was not the way. "Israel is a state of law," he said, and the law must be adhered to even when working to solve problems.

Israeli police enabled protestors to demonstrate over the past few days and showed much restraint when keeping an open dialogue with them, Israel Police said in a statement released to the media. Due to the recently violent nature of the protest policemen have been instructed not to allow any form of law-breaking and to work against violent acts in order to protect the public and property, the statement read.

Protests are set to resume Wednesday afternoon in several areas of Israel. The police has stated that it will enable protestors to block roads.