Aeronautics Stakeholder Aaron Frenkel Looking to Acquire Satellite Operator Spacecom
The Israeli businessman, who owns a 33% stake in the Israeli drone maker, recently made a second offer to acquire the satellite communications company at a valuation of $52.8 million
Israeli businessman Aaron Gover Frenkel, who owns a 33% stake in drone maker Aeronautics Ltd., is looking to acquire a controlling stake in Tel Aviv-listed communications satellite company Space Communication Ltd. (Spacecom), according to two people familiar with the matter who spoke to Calcalist on condition of anonymity. Spacecom was previously owned by Israel-based holding company Eurocom Group, which went into receivership in late 2018.

According to the people familiar with the matter, Frankel, who is leading a group of financial bodies that includes the underwriting arm of Tel Aviv-based I.B.I Investment House Ltd., has made an offer to acquire the company at NIS 9 (approximately $2.5) per share, representing a valuation of NIS 187 million (approximately $52.8 million) for the company. The offer was made as part of a tender held by Eurocom's institutional creditors—Bank Mizrahi-Tefahot, Israeli insurance companies Clal Insurance Enterprise Holdings Ltd. and Menora Mivtachim Group, and investment house Altshuler Shaham Group—who together hold a 54% stake in Spacecom.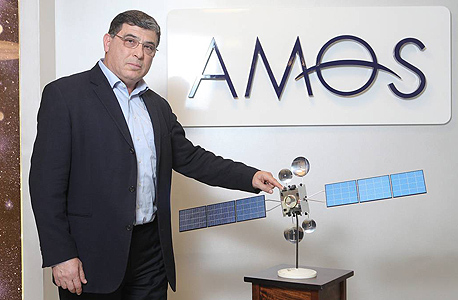 President and CEO of Spacecom David Pollack. Photo: Orel Cohen

Frankel's offer was rejected by the legal representative of the institutional creditors, Chagai Ulman, who opted to wait for the launch of Spacecom's latest satellite, AMOS-17, scheduled for next week, the people said. Frankel's group was the only bidder to make a binding offer in the tender, they revealed.

Two months ago, Ulman rejected an identical offer by Frankel that matched the company's market capitalization at the time, but the company's stock has since risen, and it is currently being traded at a market cap of NIS 240 million (approximately $67.8 million), or NIS 11.53 (approximately $3.2) per share.

Spacecom has seen a series of misfortunes in the past few years, sending its stock down from a peak of NIS 79.5 per share in June 2010 (approximately $20.6 at the time). AMOS-17, which will mostly provide service to Africa, was built as a replacement for AMOS-5. Expected to have a 15-year lifespan, AMOS-5 stopped responding to communications while in orbit in 2015, just four years after its launch. In 2016, AMOS-6 exploded on its launch pad, costing Spacecom a $95 million contract with Facebook and a deal to be acquired for $285 million by Shanghai-listed telecommunication technologies supplier Beijing Xinwei Technology Group Ltd.

Eurocom's remaining debt to its creditors is around NIS 130 million (approximately $36.8 million) and Ulman is looking to sell Spacecom at a valuation of between NIS 250 million and NIS 260 million (approximately $70.7 million and $73.5 million) in order to cover it.

For the first quarter of 2019, Spacecom reported $20.2 million in revenue, representing a 2.7% rise year-over-year. The company's gross profit for the quarter was $7.3 million, a 22.5% increase compared to the same period last year. The company ended the quarter with an operational loss of $2.4 million.