Satellite Operator Spacecom in Talks With a Client Comparable to Facebook, Says CEO
Spacecom is set to launch its new satellite, AMOS-17, next week, and has already reported an order backlog valued at $58 million
Israel-based company Space Communication Ltd. (Spacecom) is in talks with an Africa-based client "comparable to Facebook" to provide communication services with its new AMOS-17 satellite, CEO David Pollak said Sunday at a press conference.

The launch of AMOS-17, intended to provide communication services primarily to Africa, is set to take place August 4. AMOS-17's predecessor, AMOS-6, which was designed for the same purpose, exploded on the launchpad in August 2016. The accident ended up costing Spacecom hundreds of millions of dollars in lost contracts, including a high-profile $95 million contract with Facebook.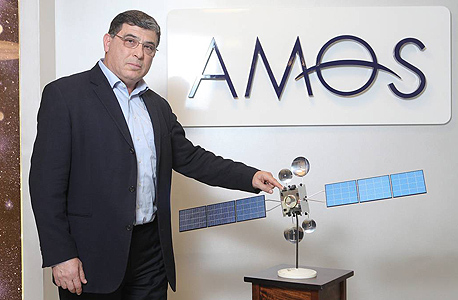 Spacecom CEO David Pollak. Photo: Orel Cohen

Facebook was "badly burnt" by the AMOS-6 accident, and is not willing to enter an agreement with Spacecom until the new satellite reaches orbit, Pollak said.

According to Spacecom, the company already has an order backlog for the new satellite valued at $58 million. Once the launch is executed successfully, the company said, more deals would reach maturity. Currently, Spacecom provides communication services to Africa through the AMOS-4 and AMOS-7 satellites. The Boeing-built satellite is expected to provide service for a 20-year period.